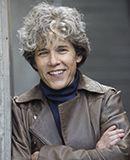 "All these plays are about forgiveness," Lue Douthit, executive director of the Play On! Shakespeare translation project, said of Shakespeare's work. "That after all the shenanigans you still can bestow forgiveness in a truthful way, I think that that's a really fine lesson to be learned over and over and over again."
Ms. Douthit will conclude Chagrin Arts' 2019 Chautauqua-in-Chagrin Lecture Series July 16 with her presentation of Play On! Shakespeare for the "Translating Shakespeare into Modern-Day English" lecture. Ms. Douthit will be joined by Co-directors Tyler Collins and Delaney Hagy of Shakespeare in the Valley and other members of the "As You Like It" cast for readings and demonstrations of translated passages of Shakespeare's plays.
"The word translate always seems to be the sticking point for people," Ms. Douthit said, explaining that people sometimes find the project controversial and worry the language will be dumbed down.
Ms. Douthit emphasized the translations are not intended to replace Shakespeare and are held to high standards. "People have been really fearful about that," she said of people's concerns of the translations taking away from the natural language of Shakespeare.
"By translating, I'm saying 'carry forward,'" Ms. Douthit clarified. "I'm interested in carrying forward what that immediate experience might have been 400 years ago." She said the goal of the translations is for them to be companion pieces to Shakespeare, "and that's exactly what they have come out to be."
Play On! is made up of 36 playwrights who translated 39 plays into contemporary, modern English, Ms. Douthit explained. "They had to match the language line by line. They had to do it in iambic pentameter. If it was in iambic pentameter, they had to try to rhyme if they could rhyme, and it was to the best of their ability of which no one had a greater ability than Shakespeare."
The result of three years of translating, Ms. Douthit said, can only be described through the Vegemite Principle. Much like the mysterious black Australian food spread, the Play On! Shakespeare experience is not easily described.
"It's an odd thing to wrap your head around intellectually, and the only way to really understand what we're doing is to hear one," she said of the demonstrations.
"We're interested in accessibility and understanding Shakespeare for audiences, theater people, students, et cetera," she said. "It has been my experience that we are struggling with the language of Shakespeare. This is my experience. And I am very sad to think that as time goes on and in my lifetime there seems to be less and less.
"There's less and less interest in really paying attention to Shakespeare and performance," Ms. Douthit said. "This isn't a literary exercise. This is an exercise about how in the moment of hearing it, what kind of clarity might be useful for us 400 years later."
She said she is interested in determining what an audience can understand in Shakespeare's plays without too much help.
"Yes, there's a loss of poetry when there's clarity. I get it," Ms. Douthit said. "But perhaps if there [are] strategic moments of clarity, then perhaps you and I could hang in there with the story longer, and that's what I'm really interested in," she added on the intention of the translations.
"It's really about getting back to those big speeches and the actions of these plays, which I think all have a moral to the story, and it's really, really, really, really hard to describe," she said. "It's very bizarre, and in a really great way."
Translating Shakespeare into Modern-Day English will take place at the Federated Church, 76 Bell St. in Chagrin Falls, July 16 at 6:30 p.m. Tickets are $5 for students, $15 for general admission and $20 for preferred seating. To register for Ms. Douthit's lecture, visit ChagrinArts.org or call 440-247-9700.