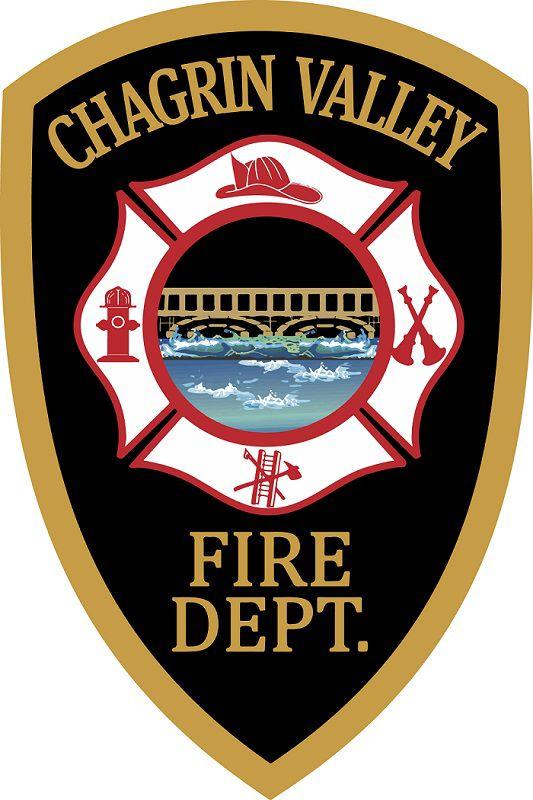 As fire Chief Frank Zugan stressed each word of the name Chagrin Falls Suburban Volunteer Fireman's Association, fellow first-responders in the firehouse training and meeting room sat back and chuckled at the mouthful, agreeing that while there is nothing inherently wrong with the name, it needed a facelift.
As of today, the nonprofit that has been providing fire and emergency medical services to six surrounding communities since 1897, officially announced a name change to the Chagrin Valley Fire Department to better represent its scope of service and to help modernization efforts for their firehouse.
Chief Zugan explained that the original name came about in 1934 when the nonprofit association had a much larger response area than today. He explained that they used to cover as far as Bedford Heights, Gates Mills and Chester Township.
"Valley is the key here," he said on swapping that word with 'Falls' in the new name. "That's what we're doing. We're protecting the communities in the [Chagrin] Valley, so it's perfect."
While based in the West Washington Street firehouse in Chagrin Falls, the department serves Chagrin Falls Village, Chagrin Falls Township, Bentleyville, Hunting Valley, Moreland Hills and South Russell.
"This is really a two-part project for us," Capt. John Catani, president of the valley fire department, said. "We serve six communities, and a lot of the residents in those communities don't even know we're their fire department. So, we're trying to be more inclusive."
He added that this rebranding also directly ties into the department's capital campaign to improve the firehouse for much-needed changes to improve speed, safety and accommodating quarters for female firefighters. The last time the building, which was built in 1920, had renovations was in 2002.
"Fire doubles in size every 30 seconds, and a person can only go without oxygen for 6-8 minutes before there's irreparable damage," Capt. Catani said on the importance of speed. "Getting out the door really fast is very important."
He said the department is down to an average of 2 minutes from the time they get a call to getting out the door. By moving the bedrooms in the firehouse and adding a third stairway and a possible fire pole, they can trim that time by 25 percent, or 30 seconds.
The officials added that by changing the name, the supported communities outside Chagrin Falls are more apt to recognize that the Chagrin Valley Fire Department is their fire department. With this recognition, it may even be easier to raise money for the capital improvements to the firehouse.
So far, the department's capital campaign has raised more than $350,000 toward its $1 million goal.
Capt. Catani noted that the department has received more than $100,000 in grants for safety upgrades such as exhaust hoses through the Federal Emergency Management Agency and gear washers from the Ohio Bureau of Workers' Compensation.
"So, we've been doing our part," he said on utilizing financial resources and grants while asking for local support.
Rob Falls, president and CEO of Falls, a strategic marketing, communications and digital firm that is managing part of the name change and capital campaign, explained that the modernizations also are important to make the department more appealing to prospective firefighters and keeping them safe as much as keeping residents safe with improved response time.
"This is something that is in dire need. It's not like this is a luxury," he said of the improvements needed.
Fire Marshal Jim Finley agreed, noting that firefighters are more prone to cancers from their work environment and the smoke and toxins their gear carries.
"When I started here, we brought our gear up here in the middle of the night because we thought it'd be easier to just jump into our boots, put our pants on and go down the stairs," he said, rather than running down stairs first before gearing up. "We didn't realize we were dragging all this stuff (toxins) into our living quarters."
Chief Zugan said that with the firehouse's current setup, "we wouldn't even be close to being compliant."
Capt. Catani said that firefighters have even gotten minor injuries navigating through the firehouse and down the stairways.
"We're doing the best we can with what we have, and obviously modernizing everything to make it safer for the people that are living there and responding and helping everybody out with communities is a huge goal for us," Chief Zugan added.
Capt. Catani noted that there is especially a need for accommodating female firefighters with the modernizations.
The department has three, soon to be four, female firefighters of a total of 50, he said, explaining that there are only two bedrooms to be shared between any four on-duty firefighters and no separate bathroom. Firefighters typically work 24-hour shifts.
Chief Zugan noted that the modernizations also will be needed to accommodate the chance that the department expands and will need more firefighters on duty.
"It's not only for now, but this modernization is for the future," Chief Zugan said. "My goal is to make sure that these guys are set up."
Also in the works under the newly-named Chagrin Valley Fire Department, is an upcoming gala on June 13, "Denim & Diamonds," to help support the capital campaign.
As of now, the gala, which will be at White North Stables in Hunting Valley, will include dinner, drinks and dancing; a live band and a keynote speaker; and a silent auction and 50/50 raffle. More information is yet to come on this event.
For more information on the Chagrin Valley Fire Department, their upcoming gala or to help support, visit ChagrinValleyFire.org.