FLORENCE VAN AUSDAL CROSS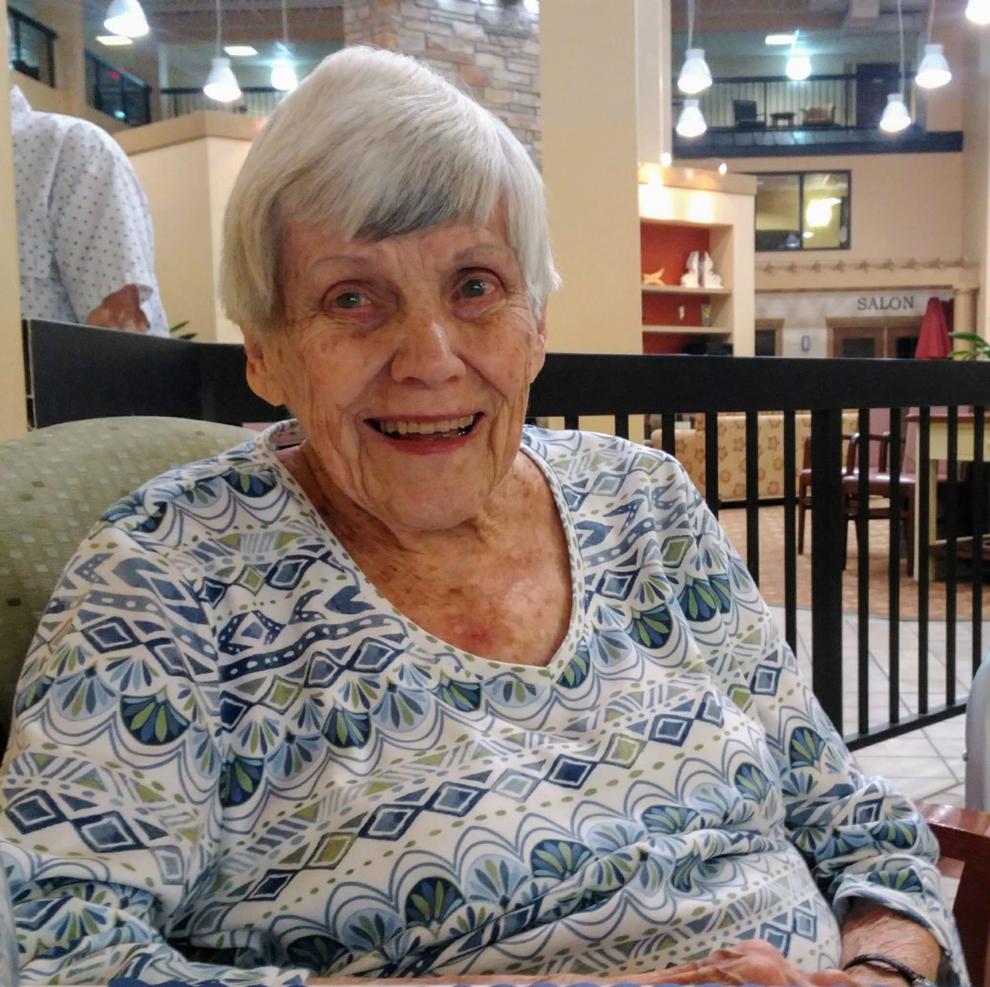 Florence Van Ausdal Cross came into this world in Lewisburg, Ohio, on December 10, 1923, and left it on December 10, 2017, at her home in Chagrin Falls, Ohio. Her parents, Francis Marion Van Ausdal and Cora Singer Van Ausdal, her four siblings, and her beloved husband, Gordon G. Cross, preceded her in death.
Florence graduated with honors from Miami University in 1944 with a BS in chemistry. She worked as a chemist at National Cash Register in Dayton and at Battelle in Columbus, Ohio, before marrying Gordon in 1946 and starting a family. They had three children-- Ellen (Ulrich) Sandmeyer, Lorraine (David Branthoover) Cross, and Linda (Michael) Krasny-- and moved to Chagrin in 1960. Florence was a 25-year AARP tax teacher and preparer, as well as a volunteer for Project READ, Friends of the Library, Elderlife, and Hamlet Hills. She and her husband, members of the Federated Church for over 50 years, were staunch supporters of the Chagrin Falls schools and shared a love of golf, world travel, and a great devotion to their 10 grandchildren and five great-grandchildren.
Private family services will be held. Those wishing to honor Florence may share their memories at www.stroudlawrence.com or contribute to Federated Church's Colorado Kids Scholarship Fund.
CHRISTOPHER WILLIAM DAVIS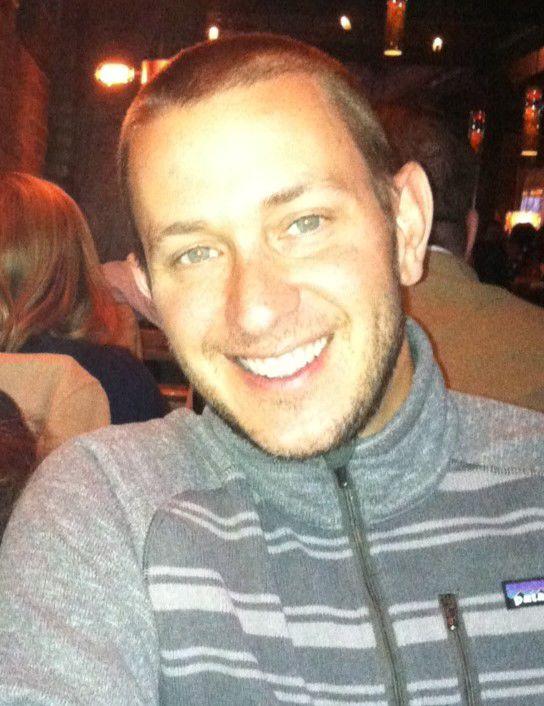 Christopher William Davis, age 41, of Chagrin Falls, OH, formerly of State College, PA, passed away peacefully surrounded by his beloved family on December 10, 2017. Chris was born on December 19, 1975, in Westmoreland County, PA. After spending his early years in Syracuse, NY, his family moved to State College, PA, thus sparking his life-long passion for all things Penn State. Chris attended Penn State University where he graduated in 1998. Upon graduation, Chris married the love of his life, Suzanne Patterson, in State College, PA. Chris and Suzanne moved to New Jersey shortly afterward where he pursued a career as a golf course superintendent. Despite living several hundred miles from Penn State's campus, Chris and Suzanne frequently returned to support both the football and wrestling teams as season ticket holders. In 2003, after heeding a new call, Chris graduated from The College of New Jersey with his Master's degree in Education. He taught at the elementary level in South Brunswick, NJ, until the birth of his first child, William. At that point, Chris became a stay-at-home father and dedicated himself to raising their children. He and Suzanne moved to Chagrin Falls, Ohio, shortly after the birth of their daughter, Adeline, in 2012. Despite being surrounded by countless rival Ohio State fans, Chris grew to love his home in Chagrin Falls.
Chris was a kind, generous, and passionate man. He was a loving husband, father, brother, son, and friend. Chris poured himself into his family and friends, always giving, never taking. He was a man of diverse passions and interests including wine collecting, American History, cooking, traveling, music, golfing, cycling, and all things Penn State sports. Chris did nothing small and when he was engaged with something, he was "all in". His energy was infectious and inspirational. Even during Chris' most trying times battling cancer, his spirit and courage never waned. Throughout his illness, he simply refused to be anything but upbeat, positive, and loving. Chris' absence leaves a significant hole in the lives of many, but his memory and spirit will live on within the countless lives that he touched Chris is survived by his true love, best friend, and wife Suzanne; his children, William and Adeline of Chagrin Falls, OH; his mother and father, Marcia and Sam Davis (Pinehurst, NC); his sister, Jennifer Davis (Durham, NC); his in–laws, Nancy and Len Rockey, Gretchen, Mark and Graham Fetterolf, Chad, Marcie, Emma and Sydnee Rockey (all from State College, PA) and Becky, Andy, Samantha and Henry Smith (Lancaster, PA); and countless relatives and friends who were blessed enough to be touched by Chris' life.
Friends and family are welcome to celebrate Chris' life at The United Methodist Church, 20 S. Franklin St., Chagrin Falls, on Friday night from 5pm to 8pm and Saturday 12pm to 1pm. The Service will be held at the church Saturday at 1 pm with a reception immediately following at Canterbury Golf Club, 22000 S. Woodland Rd., Beachwood. In lieu of flowers, please donate in Chris' name to The Gathering Place, which will continue to be a significant support system for the family. Donations can be mailed or donated directly online (23300 Commerce Park, Beachwood, OH 44122, www.touchedbycancer.org).
We can all honor Chris in the best possible way by following his lead and going "all in".  Live your life and love all of the people in it with your full heart every single day – and always do so with a smile. Arrangements by Stroud-Lawrence Funeral Home, Chagrin Falls, OH.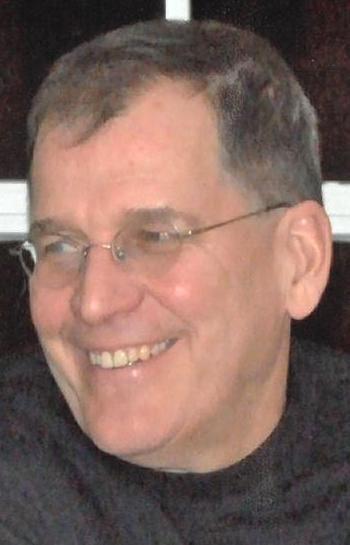 JAMES MICHAEL MACKEY
James Michael Mackey, age 67, passed away Wednesday morning at his home in Bainbridge Township surrounded by family. He was an inspiration to his wife, Laura (nee Andonian); son, James (Lisa); son, Ryan (Colleen); son, Michael (Dana); and daughter, Kara (Adam) Hermsen. He is also survived by his greatest achievement, a boisterous house of 11 grandchildren: Jackson, Samantha, Collin, Ryan, Ella, Kate, Alma, Alice, Greta, Mackey, and Frankie.
The world lost a guiding light of goodness and faith, a committed servant to his community, and a model father and husband. Those who knew him did not need to know him well to be moved by his infectious humor and welcoming spirit. James was an ambassador and leader in any community he was a part of: a graduate of John Carroll University (1971), who later was the alumni president and recipient of the alumni medal (2011); a member of St. Joan of Arc Parish in Chagrin Falls, who later became president of parish council and chairman of the building campaign. Jim was also, a trustee of the Center for Mental Retardation, National Hemophilia Foundation, and Leadership Geauga County. He was an accomplished and devoted attorney for 45 years. Most recently, he was partner at Walter Haverfield. James died the luckiest man in the world, and it was never more evident than when he was surrounded by the love, laughter and friendship that overflowed from their home in Lake Lucerne when all the family was together.
In lieu of flowers, the family would appreciate contributions in memory of Jim to the Sarcoma Foundation of America, www.curesarcoma.org/donate/. Funeral Mass was Tuesday, December 5, 2017, at St. Joan of Arc Church, 496 E. Washington St., Chagrin Falls. Interment Private. The family received friends at the Schulte & Mahon-Murphy Funeral Home, 5252 Mayfield Rd., Lyndhurst. Please sign Guest Book at: www.schultemahonmurphy.com
MARGUERITE MANNION McCOURT
Mrs. Marguerite Mannion McCourt passed away peacefully at the age of 86 surrounded by her children and grandchildren. She was born in 1931 to Joseph Patrick Mannion and Ann Donnelly in Baltimore, MD. She is preceded in death by her brother and sister, Joseph and Patricia Mannion; and her husband, David Basil McCourt.
She married David on June 13th, 1953, and started their large family, moving to Philadelphia and ultimately Chagrin Falls. Marguerite was devoted to her church, St. Joan of Arc in Chagrin Falls. She was a member of the Ladies' Guild, sang in the choir, was a regular at the 8am morning Mass and participated in any and all social church activities.
She is survived by children, David Basil McCourt, Ann McCourt Briggs (David Briggs), Michael McCourt (MaryFrances McCourt), Jane McCourt Good, Donald McCourt, Ellen McCourt, and Patsy McCourt Mizeur (Bryan Mizeur). Known affectionately as "Grandy", Marguerite is survived by her grandchildren and great-grandchild, Courtney Briggs, Michael Briggs, Caroline Briggs, Kathryn McCourt, Patrick McCourt, Davis McCourt, Patrick Good, Cooper Good, Frank McCourt, Jade McCourt, Morgan Mizeur, Jacqueline Mizeur and Braiden Briggs.
Grandy will be remembered as a strong and resilient matriarch who loved to volunteer with organizations such as The Christ Child Society, CAT Program, as well as tutoring at the Reading Program. Marguerite was a pioneer in aerobics and a member of the Cleveland Hiking Club. She enjoyed spending her time with family, travelling with friends and could often be found browsing at the Chagrin Falls Library. Marguerite lovingly cared for her special daughter, Ellen, who now resides in Royal Oak, MI. Grandy will be missed by her family and community. She will be cherished as one who could light up any room with her beautiful smile. A funeral Mass will be held in Marguerite's honor on Dec. 16 at 11:00 a.m. at St. Joan of Arc Catholic Church in Chagrin Falls. Father Gary J. Malin officiating.
ELAINE MORRISON SHAKLEY
Elaine Morrison Shakley, 95, was born in Boswell, Pennsylvania, to John and Beatrice Morrison. She graduated from Heidelberg College with a degree in Music and a Master of Arts from Case Western University in Cleveland, Ohio. She was married to Glenn Shakley in 1943 and they were married for 50 years before his passing in 1993.
She was an accomplished musician for over 50 years in Cleveland, Ohio, teaching music in the Cleveland Heights and Chagrin Falls School Systems. She started the string program in the Chagrin Falls School System starting with violin and adding viola, cello and bass. She was the first educational television teacher in the City of Cleveland, with her program Songs, Sounds and Symbols. Her first guest was Henry Mancini. She was an adjunct faculty member at Cleveland State University for over 38 years and was organist at the Federated Church of Chagrin Falls for 28 years, and then the Chagrin Falls United Methodist Church for 13 years.
She received the Martha Holden Jennings award for excellence and used the grant to study educational television around the world. Research was completed in North and South America, Asia, Europe, Australia, and New Zealand. She was the first recipient of the Alumni Excellence Award from Heidelberg College and is listed in Who's Who in America, and Who's Who in the World. She was a past president of the American Guild of Organists, Mu Phi Epsilon, Cleveland Piano Teachers Association, Cleveland Two Piano Club and an active member of Cleveland Fortnightly Club. She is survived by three daughters - Susan Lippert (Tim) Portland, Maine, Bonnie Maitlen (Gary) Portland, Indiana, and Pamela Van Siclen (The Rev. John) Newcastle, Maine.
She is survived by a sister, Rachel Jones (Milton) Boulder, Colorado and was preceded in death by sister, Maythorne Winterkorn. She has six grandsons and eight great-grandchildren.
Memorials can be sent to Asbury United Methodist Church or Music Works Scholarships at Arts Place in Portland, Indiana. A memorial service will be held at a later date.
Baird-Freeman Funeral Home in Portland, Indiana is in charge of arrangements. Online condolences at www.bairdfreeman.com
Robert Jones Mills
Robert Jones Mills, 91, of Solon died Oct. 31.
Mr. Mills was born May 16, 1926 to the late Howard and Josephine. He was an Army veteran of World War II. Mr. Mills was a teacher, coach and high school administrator for the majority of his adult life.
He was preceded in death by his wife Susanne (Geiler).
Mr. Mills is survived by his sister Joyce McKee, two sons Mark (Jen) and David (Jackie) and two grandchildren.
A celebration of life will be held 2-8 p.m. on Friday at Grantwood Golf Course, 38855 Aurora Road in Solon. In lieu of flowers, memorials may be made to Hospice of the Western Reserve.