Charlene Paparizos 440-247-4363
Becoming "Forces in Motion"
In striving to be "Forces in Motion," Chagrin Falls Middle School eighth-graders split into service learning groups to help make a difference in their community. Each group is led by a staff member and meets three times a month.
The students divided into nine groups total under the "Forces in Motion" project after brainstorming how they wanted to help their community. So far, students have worked on one-on-one tutoring, fundraising for local nonprofits, created artwork and tools to be donated for those in need and much more.
"Forces in Motion builds engagement. Engaged students are excited. They are able to wonder and feel connected, whether it's to school, peers, staff or projects," said Principal Laila Discenza. "What makes this group successful is that the courses were developed from student voice while advisers help personalize student experiences. Eighth-graders have the entire year to not only explore their passions but also their world and identify how they fit into it and how they can make it better."
Forces in Motion groups and their respective projects include:
Tiger Tutors: Under the direction of Amanda Heintzelman and Meghan Bando, students are working with students one-on-one in the Innovation Center every Thursday during WIN period.
Art Fur Animals: Under the direction of art teacher Amy Fenton, students are creating artwork and animal clothes to donate to nonprofits for fundraising events. They are also hosting pop-up painting parties in the school's art room where students pay to participate to support nonprofits.
Tigers Lend a Paw: Under the direction of teachers Marisa Conte and Tamara Mrofchak, students are putting together fundraisers and making items to donate to the animals at Rescue Village.
Lead 4 Change: Led by Kathleen Aranavage and Marissa Ausperk, students made 100 food bags to feed the hungry at the West Side Catholic Center.
Build a Hand: Enable the Future: Led by Project Lead the Way teacher Mike Wujnovich and Makerspace Implementer David Kimball, students are using the 3-D printer to assemble a prosthetic hand for a donation to someone in need.
Rehab-a-Bike: Led by teacher Todd Thombs, students collected old bikes and are learning how to repair and refurbish them to donate to iCan Bike Camp, hosted by the Achievement Center for Children.
Tigers Care: Led by teacher Jennifer Remaley, students raised funds by selling Chromebook stickers and donating to the Leukemia Lymphoma Society. They also collected toys for Ronald McDonald House in Cleveland, which were delivered before winter break.
ChaGreen Jr.: Under the direction of teacher Emily Moore, students looked at ways to make Chagrin Falls more environmentally friendly. They created recycling posters to display around the school and are helping with a community clean up and tree planting. Chagreen Jr. has a goal to get plants in every classroom.
New Crew: Under media specialist Angie Jameson, Crew students are filming and creating a mini documetary to publicize what each service learning groups are doing. Students have learned about photojournalism and videography throughout this process and are using iMovie to produce their documentary.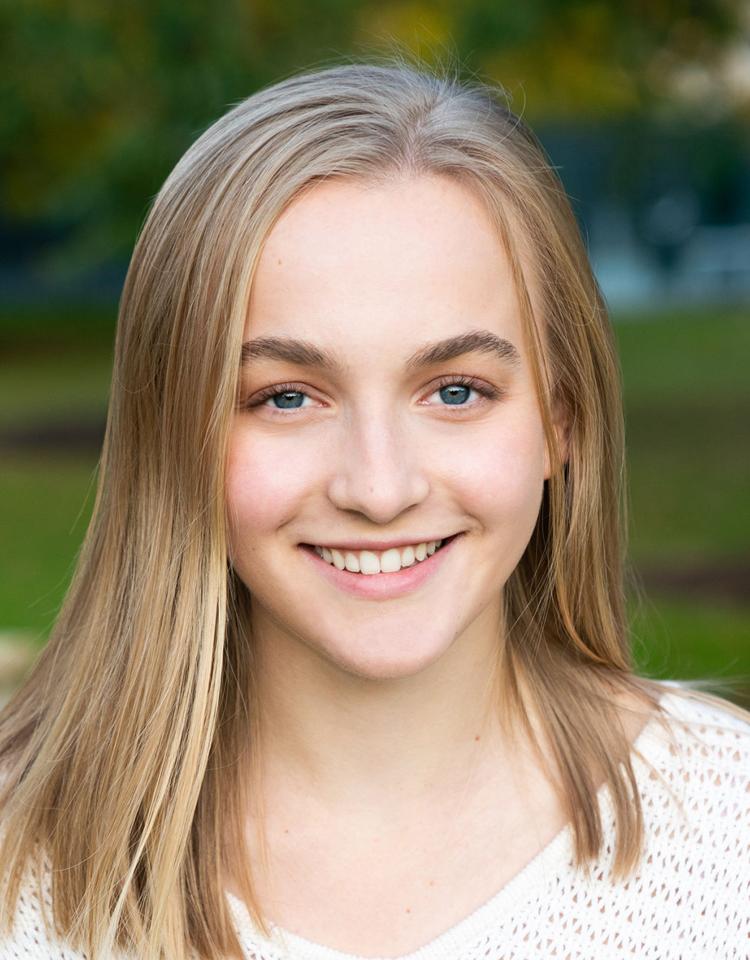 Rotary Student of the Month
The Chagrin Valley Rotary Club selected Chagrin Falls High School senior Margaret Mills as the CFHS January Student of the Month based on her leadership and service qualities she has displayed in the community.
Margaret has been the recipient of several awards during her high school career, including National Speech and Debate Association Academic All American, National Merit Semifinalist, National AP Scholar and a pending Ohio Seal of Biliteracy in Chinese. She also received two Regional Gold Keys and was nominated for American Voices Award from the Scholastic Art and Writing Awards. 
In her time at CFHS, Margaret has been a member of the girls golf team and was varsity captain, a four year varsity starter and a two-time First Team All-Conference member. She also has served as the editor-in-chief since 2018 and podcast host for the CFHS Tiger Times. She has been on the Speech and Debate team, served as president through her junior year, currently serves as vice president and has been the Public Forum captain since 2018. Margaret has also taken a total of 13 accelerated Advanced Placement and Post-Advanced Placement courses.
Outside of school, Margaret spends her time playing piano. She has played for 12 years and volunteered as school accompanist from 2016 to 2019.
After high school, Margaret plans to attend the University of Chicago where she will study political science and international relations.