Food glorious food! That's what audiences can expect when the seventh annual Chagrin Documentary Film Festival gets underway next month with its line-up of special events all including food appropriate to each of the featured films.
And that's not to mention music, personal appearances and maybe even a little marching as side dishes at these separate celebrations.
This year's special events are over and above opening night, awards presentations, panel discussions and filmmaker roundtables scheduled throughout the fest Oct. 5-9 in downtown Chagrin Falls.
So why the extra events? Because they are worth it in so many ways and the volunteers wouldn't have it any other way, fest founder and Director Mary Ann Ponce said.
The extras, she said, build the word-of-mouth buzz about the event that has achieved local, national and international recognition. 
Longtime events Chairwoman Nancy Haag agrees. Enticing people to buy a ticket to an event because they are tantalized by something extra bolsters the festival's funding and its ability to do more, she said.
"I've always had the personal belief that these (events) have to have a value connected with them so people will tell their friends and everyone will want to go and the way to do that is through food," she said.  
Mrs. Haag said her committee of 15 creative minds cannot get started planning their parties until June when entries are officially announced. Then, with all 76 films before them, committee members look for the spark, the idea, the inspirations that bring events to life.
"There are so many ways to go and so many things we came up with that the public would like, and of course who doesn't love food," she said.
 Then it's a matter of finding the hook, the person to take on planning and place to stage events.
"It's not really that hard. With all those minds put to thinking about something it just comes together," Mrs. Haag said.
 "These committee people are pros and have been doing it for years. We could have easily come up with a dozen more events without a problem." 
The key, she said, is a "creative mind with a big dash of marketing."
Mrs. Haag advises that if you see something to your liking listed, secure your tickets immediately.
"People get their programs and they start ordering their tickets right away," she said. Sell outs are not unusual.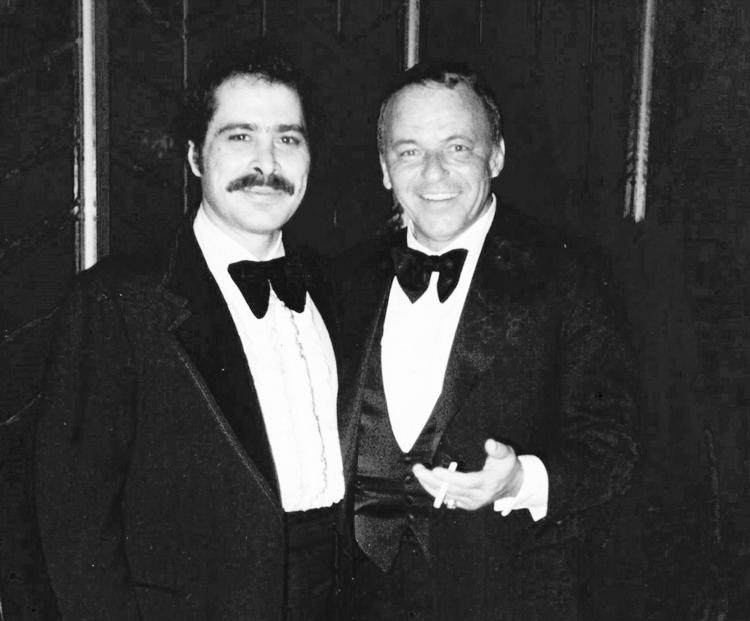 THE SWINGOS CELEBRITY INN – Clevelanders of a certain era remember the legendary downtown night club that lived up to its name and where owner Jim Swingos played host to the most famous people on the planet.
Now South Franklin Circle's Radius Restaurant will be the setting for the world premiere of Andrew Marquard's 90-minute documentary "Swingos Celebrity Inn" with traces the life and times of the place that became as famous as the characters and celebrities who gathered there.
This special dinner and the film event is Oct. 4 and Oct. 5, according to South Franklin Circle's catering and events manager Karen Nadeau who has been a volunteer with the fest since its inception.
Joining the "Dinner at Swingos" special event parties will be Matt Swingos, son the late Jim Swingos. Matt is still in the food profession and just happens to have a working and professional relationship Radius Chef Chris Koshar, Ms. Nadeau added.
Mr. Swingos, Mr. Marquard and Chef Koshar will attend a meet and greet before dinner at 5 p.m. The film will screen at 7 and a question and answer period will follow.
Dinner tickets are $45 each and film tickets are $10 each. Advance reservations are required.
While Chef Koshar cannot promise a reappearance of Frank Sinatra at dinner, he will capture the taste of Swingos with two signature dishes straight from the night spot's menu. Guests will have their choice of Shrimp Marionga or Steak Romano and for dessert, Swingos' famous Bananas Foster.
Radius Restaurant is located inside the main entrance at South Franklin Circle at:
16575 S. Franklin St., Bainbridge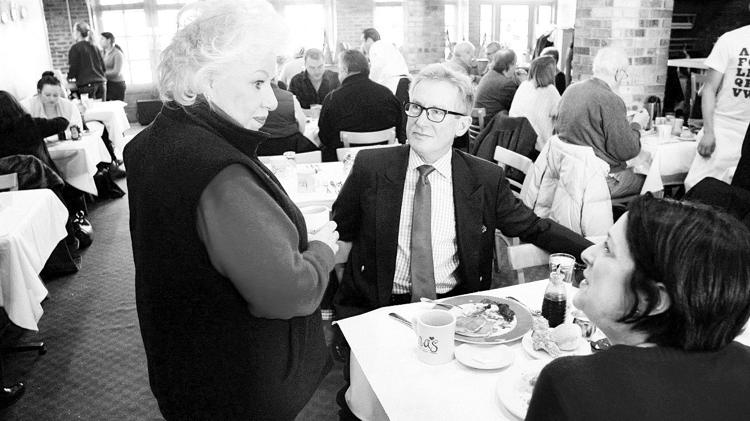 Breakfast at Ina's – One such "pro" Mrs. Haag refers to when she talks about those with a creative mind and marketing spirit is Sylvia Debick, chairwoman of the committee arranging the breakfast event around this film.
"Ina Pinkney is an 89-year-old Jewish breakfast spot owner who did things women of her generation did not dare do," Mrs. Debick said.
"She found her path and followed it all the way. Imagine, she was ostracized by her family for marrying a black man, which wasn't done in that day, and for being a woman and going into business which was also not done by women in her day."
Mrs. Debick, owner of Best Food Friends, a small person-to-person home chef business, said she wanted to do this event because she felt a bond with Mrs. Debick-Pinkney.
"I saw the movie and just loved her, bought her cookbook and we are making three recipes for our breakfast," she said, including Ina's French toast with sausage links and maple syrup, vegetable strata, her sour cream coffee cake and fresh fruit skewers.
Mrs. Pinkney had polio as a child. She had a relapse of the disease in her elder years making it difficult to continue to work. What Mrs. Pinkney did and how she is managing now would spoil the film for audiences so Mrs. Debick is keeping mum.
"Breakfast at Ina's" was directed by Mercedes Kane. The event is sponsored by the Maltz Museum of Jewish Heritage. It will be shown at other times during the festival but the breakfast event is set for 9 a.m., Oct. 7 at:
76 Bell St., Chagrin Falls
Cost $15 (free with Producer membership)
Craving Cuba - Gwen McCuaig and Mary Jo Weber are the masterminds behind all that goes into planning the "Havana Nights" celebration around this documentary, directed by Zuzy Martin Lynch and Rick Lynch. The film explores the bicultural identity through a Cuban-American lens and the complications of the Cuban-American's relationship with Cuba.
Mrs. McCuaig describes Havana Nights as the festival's own celebration of all things Cuba and the new understanding between the two cultures. That means food.
"We always relate the food back to the film," she said. "Last year we did the event for a documentary about an English pub so we did fish and chips."
This year the women are doing traditional Cuban sandwiches, rice and beans and rum drinks plus Cuban beer. "And there will be Coca Cola, too," Mrs. McCuaig said. "We are told Cuban people love Coca Cola."
There will be rum punch for starters and cigar tasting for those who indulge. Mrs. Weber and Mrs. McCuaig are working on getting a few classic cars to show off much like the ones still rumbling through the streets of Havana.
Other highlights of the party will include costume touches. Volunteers will wear the ever popular fedoras and the singing guests of honor "The Foreigners" will entertain wearing their classic "cigar shirts."
The trio includes a film festival regular: Ed Ponce, husband of the festival director. Cuban by birth, Mr. Ponce will take center spotlight as one-third of the trio who entertained in coffee houses around Florida in the 1960s.
His singing partners are Fred Valdes and Angelo Fustere. The three met in Miami as teenagers soon after arriving from Cuba.
"Listen for 'Guantanamera' for sure and all the old folk favorites," Mrs. Ponce said. "Ed likes to say 'We are not that terrible' but they are really pretty good."
"We are so lucky to have Ed and he will stay after the film to talk about Cuba to anyone who has questions," Mrs. McCuaig said. The film "Craving Cuba" and Havana Nights special event take place 6 p.m. Oct. 7.
Chagrin Falls Township Hall
83 N. Main St., Chagrin Falls
Cost $30 (free with Producer membership)
Hang on Sloopy: The Movie -- It doesn't matter who Sloopy is or that she came from the wrong side of the tracks. If you are an Ohio State University Buckeye you love her and the way the marching band does her proud. Now a film directed by Brian Grady and Dave Whinham, documents Sloopy as only a documentary can.
The Chagrin Valley Chamber of Commerce will put the exclamation point to it in its sponsorship of a tailgate party before the film screens for the first time during the festival. Highlighting the film kickoff will be a performance by the Ohio State University Alumni Band.
Tailgating, of course, means food.
"We will be grilling hot dogs and kielbasa, offering side dishes and beer," said chamber Executive Director Molly Gebler. That takes place in the parking lot of the Chagrin Falls Historical Society.
Those attending will also have the chance to win two tickets to the Oct. 29 game between OSU and Northwestern by turning out in their best OSU regalia.
Then it's a short walk next door to the Intermediate School Auditorium for the movie about how four teenagers accidentally stumbled into Ohio history and OSU fame thanks to Sloopy. Parking is available at the school lot.  Tailgating begins at 5:30 p.m. on Oct. 6.
 Chagrin Falls Historical Society
87 E. Washington St., Chagrin Falls
Doc and donuts – Here is your early morning wake up call. Grab a donut, a cup of Joe and see the film "Baobabs Between Land and Sea" before starting your day at 8:30 a.m. Oct 6.
The film tells the story of Cyrille Cornu and Wilfried Ramahafaly who traveled to the coastline of southwest Madagascar to study the giant remarkable, giant baobab trees now threatened by deforestation.
The event is sponsored by the St. Joan of Arc Women's Committee. Chairwoman Sally Florkiewicz said the event is likely to be sold out just like the popular salad lunch just three hours later.   
St. Joan of Arc, 496 E. Washington St., Chagrin Falls
Cost $10 (free with Producer membership)
Salad luncheon - A selection of salads and a selection of short subject films awaits beginning at 11:30 a.m., Oct. 6. Snag a ticket fast because this event sells out fast. Salads range from sweet to savory and luncheon goers can count on the films being the same. Cost $15, free with Producer level membership.
St. Joan of Arc Church Hall
496 E. Washington St., Chagrin Falls
Extra hands are always needed so anyone interested in volunteering for the fest should call Mrs. Haag at 440-247-1591.
For tickets to events, or to purchase all-festival passes and film festival tickets visit www.chagrinfilmfest.org, call 440-247-1591 or visit fest headquarters at 49 W. Orange St., Chagrin Falls. The festival's mailing address is P.O. Box 239, Chagrin Falls, OH 44022.