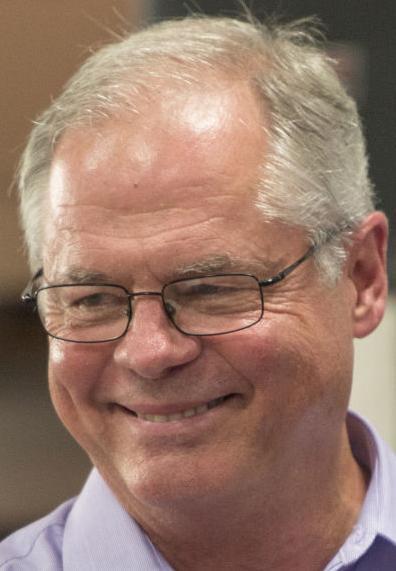 Every year when the Chagrin Valley Jaycees sat down to choose the winner of their annual Distinguished Service Award, one name always came up, but quickly was dismissed because that person already had won. Or so they thought.
Retired Chagrin Falls Chief of Police Jim Brosius had been the obvious DSA pick since retiring from the "top cop" job in the summer of 2016.
This year, the organization leadership checked the record and were surprised to find Chief Brosius had not won the Jaycees' highest honor and set to work correcting the long-overlooked recognition.
On Feb. 19, during the annual DSA banquet, the Jaycee membership honored the former village police chief and understood why it took four years to do it.
Criteria for the honor had Jim Brosius' name written all over it, presenter John Bourriseau pointed out.
"It says the DSA goes to the man or woman who works quietly behind the scenes to make an impact on his or her community. It is not the most outspoken person looking for credit or validation but someone who just does a lot of good stuff."
Mr. Bourisseau, the longtime president of the Chagrin Falls Historical Society, added that, "Jim's impact on the village was immediate (and) he brought a sense of professionalism to the department."
The historical society president and Chief Brosius have worked together on a variety of programs and exhibits involving local veterans held at the society's museum.
The historical society is also official owner of the mid-century Chevy police car the former chief acquired in 1996 shortly after coming to Chagrin Falls from the Shaker Heights Police Department.
The car appears in parades and at community events and has been an ice breaker that fits with the former chief's goal to enhance community policing.
"We may own it, but Jim is the one who lovingly maintains it," Mr. Bourisseau noted, adding he and the police department originated the annual golf outing to fund upkeep of the vintage vehicle.
Chief Brosius was instrumental in organizing several multi-municipality specialty public safety services such as the Valley Enforcement Group , a regional SWAT team and development of the nationally recognized Valley Dispatch Center.
Just for fun, the chief was originator of the Jaycee sponsored Chili Cook-off, a testament to one of "Jim's real gifts of relating to his community," Mr. Bourisseau said.
Proceeds from the event help buy "smoke box" equipment for the Chagrin Valley Fire Department and his firefighting brethren in public safety. The golf event now funds scholarships for Chagrin Falls students.
The list goes on, Chief Brosius has been active in raising funds to support the 35th Military Police Company which trains at the Chagrin Falls Armory.
He helped coordinate the Safe Routes to School, is a Salvation Army volunteer, St. Joan of Arc liturgical team member and was recognized as a Your Hometown Chagrin Falls "Hometown Hero" in 2010.
That same year, the retired police chief and his wife traveled to Washington, D.C., where he accepted the William French Award by the U.S. Department of Justice.
There were many successes during the chief's tenure and a few defeats. Undaunted by the loss of three bond issues to fund a new police station and area dispatch center, Chief Brosius got busy "making do."
He gave up part of his office to the detective bureau with each ending up with rooms the size of modest walk-in closets.
Chief Brosius was born in 1946 and part of a large military family, which did not stay in any one base for long. He graduated from North Miami High School (Florida) in 1964 and joined the U.S. Air Force as loadmaster working on C130 cargo planes.
Mr. Bourisseau said, "Jim absolutely loved those planes" and, although few spectators know it, Chief Brosius arranges the C130 flyovers during each annual Memorial Day Parade.
After several tours in Vietnam, Chief Brosius came to Cleveland to stay with a brother and thought about becoming a lawyer. Instead, he attended Cuyahoga County Community College and Cleveland State University and the FBI Academy, eventually receiving his degree in criminology.
He met his future wife, Joan, at a Cleveland night spot around this same period while she was home from the Ohio State University. They married in 1969 and are the parents of two children and two grandchildren.
Chief Brosius did not suspect he was about to be honored with the DSA when the awards dinner began. He and his wife Joan attend the DSA banquet every year – he on behalf of Chagrin Falls Veterans of Foreign Wars 12067
The veterans' organization, of which he has been a commander and now as senior vice commander, is one of 30 nonprofits invited to the banquet where each one is presented with a donation.
Those funds represent proceeds from the Jaycee sponsored Blossom Time Festival along with other annual organization events.
The DSA is awarded at the end of the evening, after donations are made and awards are presented to the Outstanding Jaycee of the Year and the Martini Award for a hard working new member.
Chief Brosius did not have far to walk to the podium, when his name was announced as this year's DSA winner. He and Joan were seated, as they always are, at the police department's table among former colleagues and friends. A standing ovation greeted him as he stood before the microphone.
"We've been married 51 years and I can usually tell when something's up," Mr. Brosius began, nodding toward his wife.
"I am so privileged. I could not have had a better place to end my career than here," he said of his 20-year career as chief of the Chagrin Falls police department.
He credited his officers, staff, the mayors and council members he worked with for their help and loyalty during his tenure.
"I left with everything in good shape and in good hands," he added, gesturing toward current Chagrin Police Chief Amber Dacek.