Residents gathered last week to hear from the three candidates running for two Orange Board of Education seats during two separate well-attended forums in Pepper Pike and Orange Village. Though residents asked about the high per-pupil spending and seventh-grade math proficiency, much of the discussion focused on campaign finances and a failed state budget amendment that would have cut school taxes in Hunting Valley and none of the other Orange City School District communities.
Candidate Meredith Bond of Hunting Valley is challenging incumbents Melanie Weltman of Pepper Pike and Beth Wilson-Fish of Moreland Hills for a seat on the school board during the Nov. 5 general election.
In her opening statement at both forums, Dr. Bond said she is not tied to the group that pushed the so-called Hunting Valley amendment. In July, key Hunting Valley Village officials worked with state Sen. Matt Dolan to add an 11th hour amendment to the state budget to decrease property tax levels only in Hunting Valley that would have reduced the school district's annual revenue by $3 million to $6 million. Gov. Mike DeWine killed the amendment using a line-item veto.
"People ask me, 'Why are you running for the Orange school board?' Well let me tell you first why I'm not running. I am not supporting and I am opposed to the initiative to reduce Hunting Valley's property taxes," Dr. Bond said last week.
She said that she is "guilty by address" and further explained that top quality education has been at the heart of her professional life. Dr. Bond, 64, is the dean of the College of Sciences and Health Professions at Cleveland State University.
Ms. Weltman, 52, said that Dr. Bond has never attended a school board meeting or any of the various committees that school board members sit on, including the Academic Committee and the Audit and Finance Committee. The board meetings are recorded and posted on the district website. Dr. Bond said that she has listened to every recording from the past three years.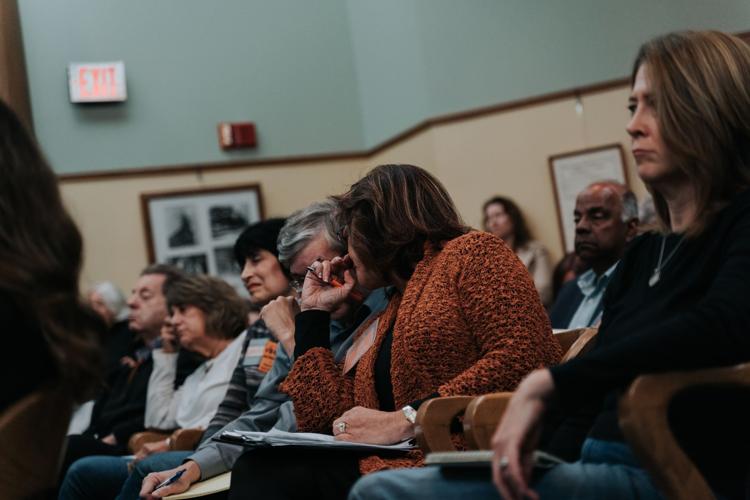 "She furthermore never met with our treasurer," Ms. Weltman said. "It's almost unheard of for a candidate for the school board to not meet with the treasurer. That's why she doesn't have the answers to your questions."
Ms. Weltman also said that Dr. Bond's campaign supporters are the same people who tried to decrease property taxes in Hunting Valley at the expense of lost tax dollars to the school district.
Dr. Bond held a fundraiser in September at The Country Club in Pepper Pike with contribution levels of $500, $1,000 and $2,500 indicated on the invitation. Supporters named on the invitation include Hunting Valley Mayor Richard Hollington and several village councilmen including Bill O'Neill, Jerry Medinger and Bruce Mavec.
Ms. Weltman and Mrs. Wilson-Fish said that their campaigns are largely self-funded and they have not held fundraisers. Ms. Weltman said that she raised $2,500 and Mrs. Wilson-Fish said she has spent $2,827 of her own money.
During the forum in Pepper Pike on Oct. 17, Dr. Bond's response that she "did not have the number right now" of her campaign fund totals was met with some boos from the audience.
When asked after the forums, Dr. Bond and her campaign treasurer, Antonio Scarpa, declined to share the campaign fund total.
But that number was to be made public this week since state law requires all candidates to file periodic public campaign finance reports with local boards of elections. The latest filing was due today (Oct. 24) showing money raised through Oct. 16. Orange BOE candidates file reports to the Cuyahoga County Board of Elections.
During the forums, audience members asked candidates about Orange's cost per pupil, which is $24,589, second highest in the state behind Put-in-Bay. Mrs. Wilson-Fish, 57, explained that the cost per pupil is currently inflated by $1,500 because of the $7.8 million renovation of Brady Middle School, which did not require a bond issue.
"We just renovated Brady Middle School at a cost of $7.8 million, and we did not go back to the taxpayers for one penny," she said. "Yes, it increased our cost per pupil, but we didn't go back to our taxpayers for help on this project."
Residents also asked about proficiency in math, noting that the district missed the indicator for seventh-grade math on the state report card that came out in September. Mrs. Wilson-Fish explained that the district is addressing math concepts comprehensively beginning in kindergarten.
Donna Asnani, 75, of Moreland Hills attended the forum with the school board and council candidates in Orange Village on Oct. 16 and said that the candidates shared important information.
"I was very pleased to see the substance of the discussion and the quality and amount of good information that was provided," she said. "We have a school district to be proud of. We don't have kids in the district but we're happy to pay taxes. There is nothing more important than public education."
Sharon Katz, 63, of Pepper Pike said that she attended the forum to hear about issues in the city. Mayor Richard Bain and the three council candidates spoke after the school board candidates.
"With elections, it's important to hear what the candidates represent and to think about future issues," she said.