Lou DeVincentis 216-831-8600 ext 6626
Staci Vincent 216-831-8600
Club holds holiday celebration
A festive mood was in the air at the annual Unity in Diversity Club holiday gathering at Orange High School right before winter break. Representatives from Sister to Sister, Male Minority Leadership, Gender-Sexuality Alliance, Israeli Culture Club, Unity in Diversity and the Spanish, French, Italian and Chinese clubs, along with others, enjoyed tasty treats from around the world together as a way to celebrate the diversity in the district and wish a happy holiday season to all. The collaborative event included games and activities marking the various holidays that occur this time of year. It was open to all students, encouraging them to peacefully and positively support and encourage one another regardless of background, religion, sexual preference or beliefs.
Students create Reflections Program artwork
The Orange City School District is proud of the dozens of talented students across campus who submitted more than 70 entries in the annual PTA-sponsored Reflections Program. Thirteen works of art were selected for first place honors. Each year, students in pre-kindergarten through 12th grade are invited to submit projects that are reflective of a pre-selected theme and represent the various arts. This year's theme was "Heroes Around Me."
At the 2018 awards ceremony held on Nov. 13 in the Orange High School Auditorium, students in four grade levels were recognized for their projects, which included literature, photography, dance choreography and visual arts. The first-place winning entries were sent to the state contest in Columbus. The first place winners at the state level move on to the national competition.
First-place winners include fourth-grader Vivaan Moghekar (literature), sixth-grader Emma Wolf (photography), fourth-grader Raina Patel (visual arts), seventh-grader Mira Batra (literature), kindergartener Annelise Clayton (visual arts), sophomore Kaya Wightman (visual arts), second-grader Violet Tomino (photography and dance choreography), sophomore Orly Wolf (photography), sixth-grader Isabella Wilson (visual arts), fifth-grader Taryn Michener (photography), second-grader Violet Workman (literature) and sixth-grader Dina Rubin (dance choreography).
Orange partners with Kids' Book Bank
Gently-used children's books that might have gone in the landfill will now have a second life thanks to the Cleveland Kids' Book Bank's new partnerships with the Lakewood, Bay Village and Orange school districts. The idea of these partnerships is that the schools host the bin and the community donates gently-used children's books. School clubs and groups empty the bins, box the books and deliver them to the Kids' Book Bank, who gets them to kids in need through their network of partner organizations. The Kids' Book Bank on the Orange campus is located by the Pepper Pike Learning Center near the tennis courts.
"We distribute tens of thousands of books every month to kids in need, and the books collected within these communities are critical to our success," said Judy Payne, cofounder and executive director of the Cleveland Kids' Book Bank. "Not only do the disadvantaged kids who receive the books benefit, but there is also a great service-learning opportunity here for students who participate."
Eighth-graders take dance lessons
Brady Middle School celebrated its 10th year collaborating with Dancing Classrooms when half of the eighth-grade class took to the gym floor earlier this school year to demonstrate the skills the students learned in 10 weeks of dance lessons during physical education class periods. This partnership began after a district-wide staff development day focusing on brain development suggested a direct link between formal dancing, physical activity, novelty and brain growth. In addition, the positive social aspects of formal dance, including tradition, respect for partners and an appreciation for classical music, have made this a valuable opportunity for students. Educating the whole child, including exposure to the arts, enhances opportunities for the students' success as the district continues to celebrate 21st century learning. The other half of the eighth grade will have the opportunity to perform in March 2019.
Orange receives four state awards
The Orange City School District, Moreland Hills Elementary School and Brady Middle School all earned the Ohio Department of Education's Momentum Award for exceeding expectations in student growth and earning straight A's on all value-added measures on the state report card.
BMS also received the Ohio Department of Education's Overall A Award for demonstrating high academic performance and building bright futures for students of every background and ability level.
Model UN team wins awards
The Orange High School Model United Nations Team won awards in five of seven committees at the Winter Cleveland Council on World Affairs Model United Nations Conference held at Lorain County Community College earlier this month.
Janie Boyle and Jackson Leb earned honorable mentions, as did Adam Tirpak and Iris Levine. Abby Goldschmidt and Piper Coker earned excellent awards while Noah Golovan earned a superior award. Abby Goldschmidt and Ian Resnick earned the gavel award, which is the highest recognition.
Students create flag cases
Orange High School students in Aaron Mayer's wood design classes once again provided a community service as they donated handmade flag boxes to a local VFW post. The beautiful cases were created with the wood from fallen trees that dot the school campus and were turned into works of art. The memorial cases are provided to families of servicemen killed in the line of duty.
Pride Powers recipients for the week of Dec. 12 at Moreland Hills Elementary School were Marijana Benjamin's first-grade class, Megan Roberto's second-grade class, Sue Hogan's third-grade class and Kelly D'Amore's fifth-grade class. The week of Dec. 19, Pride Powers recipients were Lonnie Aiello's kindergarten class, Mary Endsley's first-grade class, Jill Grano's fourth-grade class and Tim Kenney's fourth-grade class. Each week Moreland Hills Elementary School chooses four classrooms as Pride Powers recipients. These classrooms will receive a traveling trophy for exhibiting their Pride Powers: be safe, be respectful, be responsible and be engaged.
Students collect Coats for Kids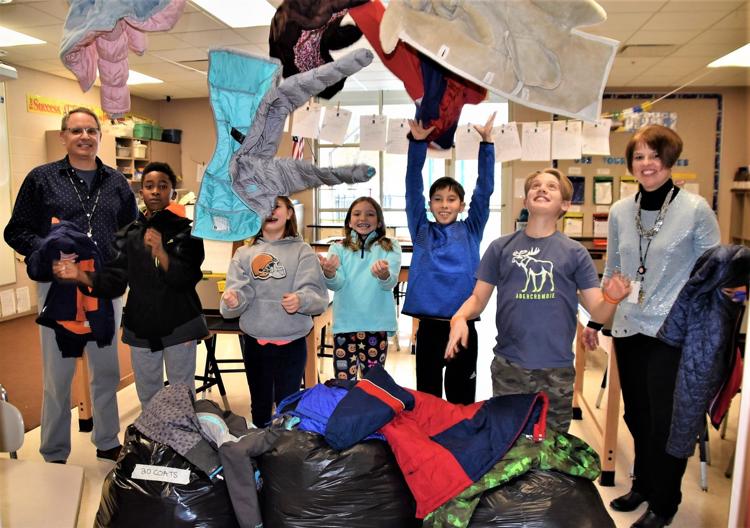 Moreland Hills Elementary School's annual Coats for Kids campaign was a huge success again this year, bringing in 131 new and gently used coats for children in need in Northeastern Ohio. Kindergarteners through fifth-graders donated the coats and jackets during a three-week period beginning just after Thanksgiving. The bags of coats are dropped off at the Howard Hanna Real Estate office in Pepper Pike to assist in the campaign to ensure that children throughout Greater Cleveland are kept warm this winter. The elementary school project was coordinated by teachers Mark and Kim White, and all fifth-graders were involved in assisting in the school collection.
Students explore book fair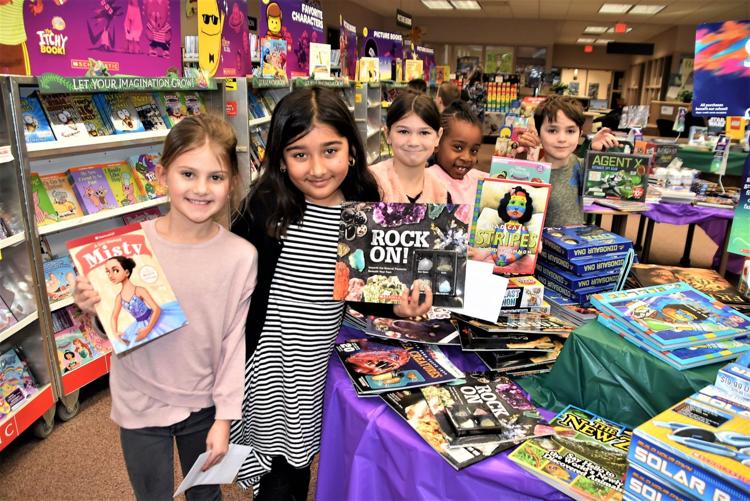 Moreland Hills Elementary School students explored the annual Scholastic Book Fair held in the school library. The students spent time with their classes perusing hundreds of books on a myriad of topics and themes and were able to purchase gifts for their family, friends and even themselves. They learned how to budget their allowances, organize their time and make some tough decisions in choosing the perfect books.