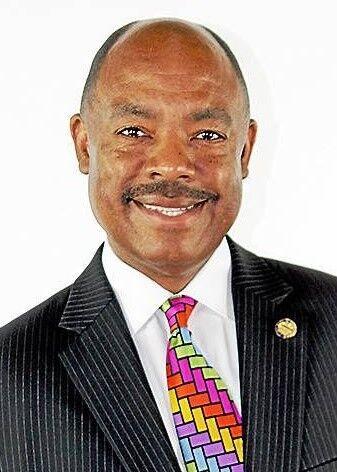 John Barnes, Jr., a former state representative, has thrown his hat into the ring for a Congressional seat that may be available soon. Last week he announced his bid for U.S. Rep Marcia Fudge's Congressional seat in District 11.
President Joseph Biden selected Rep. Fudge, D-Warrensville Heights, to serve as the secretary of Housing and Urban Development in his administration. If she is confirmed by the U.S. Senate, her seat will be filled in a special election.
Mr. Barnes, 62, of Warrensville Heights served as a state representative for District 12 from 1999-2002 and from 2011-2018. District 12 includes Orange Village and Pepper Pike along with other eastern suburbs.
"I'm running because I'm qualified and experienced and I have a proven record of getting things done and the dedication to continue forward for the betterment, the hopes and dreams of people in this community and the nation," Mr. Barnes said on Saturday.
So far, Cuyahoga County Councilwoman Shontel Brown, former state Sens. Nina Turner and Shirley Smith and former Cleveland Councilman Jeff Johnson have announced their bids for the seat. The 11th Congressional district is comprised of parts of Summit and Cuyahoga counties, including Glenwillow, Orange, Pepper Pike and Woodmere.
Mr. Barnes said that he believes in leadership that puts people first. By partnering with President Biden and other members of Congress, he said that he would bring back living wage jobs and economic resources to District 11.
Locally, he said that there have been great efforts to improve outreach and education about the COVID-19 pandemic, but not everyone has been properly informed. Mr. Barnes said that there are two paths – reaching people and educating them on social distancing and informing the public on the importance of following scientific guidelines.
"What I think is important right now is that we need perhaps immediately better coordination," he said. "I hate seeing that there's still large numbers of people who are exposed but have not been properly educated."
He also said that leaders need to look at how to "recalibrate" the economy by studying the number of jobs available versus the number of people who are not prepared to fill those positions. It would be beneficial, Mr. Barnes said, to study the top 25 industries that drive the economy and correlate those to education and job training programs.
Mr. Barnes referred to children as "our youngest and most precious part of our lives." He said that young people need to return to the classroom for in-person learning when health experts can ensure their safety. The plan to return to in-person learning should also be satisfactory to the teachers, who may be members of an older, at-risk population. It is also important, he said, to prepare for another potential wave of COVID-19 when students may have to learn from home. Some students do not have access to an iPad or Internet service, he said.
"I don't look for the partisan answer, I look for the right answer," Mr. Barnes said. "I don't see people as enemies, I see them as opportunities to learn from them about how they think and the people that sent them."
In his role as a state representative, Mr. Barnes said that he worked to return tax dollars to his district. He said that he helped push through an amendment to make Pinecrest an entertainment zone in Orange Village, allowing for more liqor licenses.
He also addressed noise complaints from Pepper Pike residents when more lanes were added to Interstate 271. While serving in the legislature, he worked to add $5 million to the budget to help food banks fight poverty and obtained a revitalization grant to bring Amazon to North Randall.
Mr. Barnes graduated from John F. Kennedy High School in Cleveland and earned his master's degree from the Case Western Reserve University Weatherhead School of Management. His father, John Barnes Sr., is a former Cleveland city councilman.