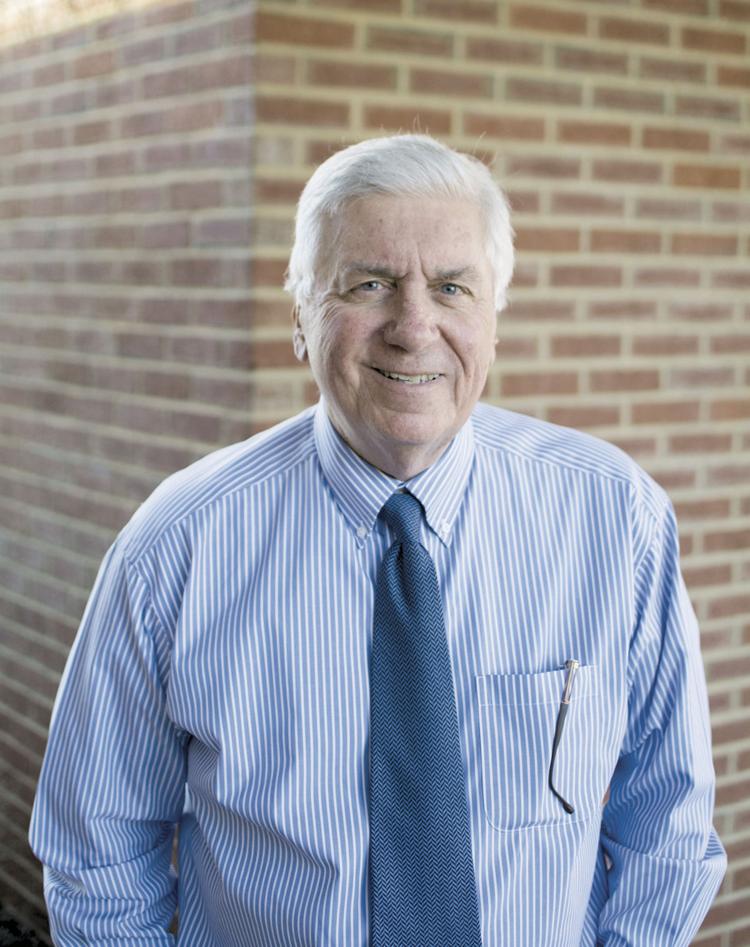 Longtime Solon City School District Superintendent Joseph V. Regano was a nurturer and an educator. A compassionate and humble leader, he influenced the lives of thousands of Solon school children over more than three decades.
"Until every bus was back in the bus garage at night, he worried every single day, making sure that the kids made it to school and back home," district Communications Director Tamara Strom said.
"Our children grew up in Joe's world, and I couldn't have thought of a better place for them to have grown up," Board of Education President Julie Glavin said. "His legacy will live on in Solon forever."
Mr. Regano, a resident of Mentor who started in education as a teacher and served the Solon school district for 35 years, died Sunday after a long battle with cancer. He was 72.
His passing shook the community.
"His fingerprints are on every facet of our schools," Solon Schools Superintendent Pro Tempore Fred Bolden said. "There are few people or places in our community that have not been directly affected by his leadership."
Mayor Edward H. Kraus was downhearted upon hearing of Mr. Regano's passing.
"I've been devastated all year on a personal level," Mayor Kraus said of his friend and colleague who was battling cancer. "Joe is Solon."
Mr. Regano was also a compassionate leader who was not too big for anybody, the mayor continued.
"From the brightest kids to the kids who struggled, Joe took the time with them," Mayor Kraus said. "That's the measure of a truly remarkable leader. He touched all of us."
Under Mr. Regano's 33 years as superintendent, the district consistently earned top rankings in the state with the No. 1 designation for many of those years.
"It is such a blow to the community," Solon Councilman William I. Russo said of Mr. Regano's passing. The two graduated from Warrensville Heights High School.
"He left a tremendously positive legacy here in Solon," Mr. Russo said.
"Joe knew everybody," Mr. Bolden continued. "It didn't matter who you talked to in the community. He had a way that he could communicate with people that made them understand they were the most important thing at that time.
"He cared for our kids and our community," Mr. Bolden said. "He was a special person.
"For me, he was like a father, a mentor and a friend," he added.
Mr. Regano, who grew the school system from a 2,400-student suburban school to a district twice the size, came to Solon at a time when farmland surrounded Solon High School on Inwood Drive and a field house served as the gymnasium outside the building. When he began in Solon, the district did not have a full-day kindergarten.
The year was 1985 and the city was strictly rural and beginning to come of age.
It was then that Mr. Regano began developing core values that remain part of the more than 4,600-student district today. Those values are incorporated in every program as well as the district's overall strategic plan, Solon's education team leaders said.
The district also remains a draw for those looking to move to Northeast Ohio.
"When it relates to the business community, he had a great understanding of the complexities of business attraction and how that affected school revenues," Solon Chamber of Commerce President and CEO Thomas Bennett said. "[Mr. Regano's] knowledge was incredible.
"You can't say enough for what he was able to accomplish and what the Solon schools and the business community has accomplished," Mr. Bennett said. "His positive affect will be felt for a very long time."
Mr. Regano grew the district as the city grew, overseeing additions to each one of the district's school buildings to accommodate that growth, as well as developing a special education program and growing Advanced Placement classes that increased from three to nearly 30.
During his tenure, the "dual school" was built housing both Solon Middle School and Parkside Elementary. Additions were also completed at Orchard Middle School, Roxbury Elementary, Lewis Elementary and Solon High School during his leadership.
Construction on those buildings came as a result of Mr. Regano's diligence in getting bond issues passed. He worked to develop programs that spoke to the district's core mission, arriving at school each day by 6:15 a.m.
"Joe loved what he did," Mrs. Glavin said. "He often said that you didn't work a day in your life if you loved what you are doing.
"He appreciated [the school board] allowing him to do his job, trusting his value and his opinion in that respect," she said. "It was a great partnership, and I know Joe valued that relationship."
Mayor Kraus said the late superintendent valued children. "If the kids did well and achieved here in Solon and came out as good students and human beings," the mayor said, that is all that mattered to Mr. Regano.
Mr. Regano was hired when late Mayor Charles Smercina ran the city and worked with all of the mayors throughout the years.
"Joe has sustained excellence for over 30 years as superintendent," Mayor Kraus said. "We have the best of the best because of Joe. He made that culture of excellence."
Mrs. Strom said that anytime she spoke with Mr. Regano, the conversation always revolved around kids and relationships and how important other people were to him all the time.
"He always had a way of putting you at ease in a conversation and for helping to focus on being solution oriented and doing what we needed to do to raise all kids up," she said.
Solon Councilman Marc R. Kotora, whose late father E. James Kotora served as Solon High School principal from 1972-1994, said he knew Mr. Regano on both a personal level as a student and on a professional level as a councilman.
"He is somebody I've known since I was a kid and was part of my Solon High School family. It is a very somber moment for me to learn of his passing," Mr. Kotora said.
"I found his analytical mind to be very beneficial to our [enterprise zone] committee," Mr. Kotora said. "He was always prepared."
He led the district as it became the best in both Ohio and the nation, State Rep. Phillip M. Robinson Jr. said, while remaining an advocate of public education and the future of all Ohio children.
"In his long career before I even came to serve in Columbus, Joe came to speak to my colleagues and predecessors to defend and promote a high-quality education in our public schools," Mr. Robinson continued. "His devotion to education was exemplary and something we all need to strive toward."
Mayor Kraus and area leaders also said that Mr. Regano was the consummate communicator.
"We worked with him over the years in Glenwillow's growth and he was very supportive of development agreements we developed that benefited both Glenwillow and the Solon schools," Glenwillow Mayor Mark Cegelka said. "We found him very easy to work with and he would support us." Glenwillow has about 200 children in the Solon school district.
"We are very saddened to hear of his loss," Mayor Cegelka said.
"People really asked about Joe all the time," Mrs. Strom said. "Anywhere you went in this community, whether it was a recent graduate or someone who volunteered with the school or never had kids in the school but just was a school supporter, Joe had those relationships with everyone."
The family will receive friends 3-7 p.m. today [July 9] at Brunner Sanden Deitrick Funeral Home, 8466 Mentor Ave., Mentor, Ohio. The Mass is 10 a.m. Friday [July 10] at St. John Vianney Church, 7575 Bellflower Road, Mentor. Interment will be at All Souls Cemetery, Chardon.