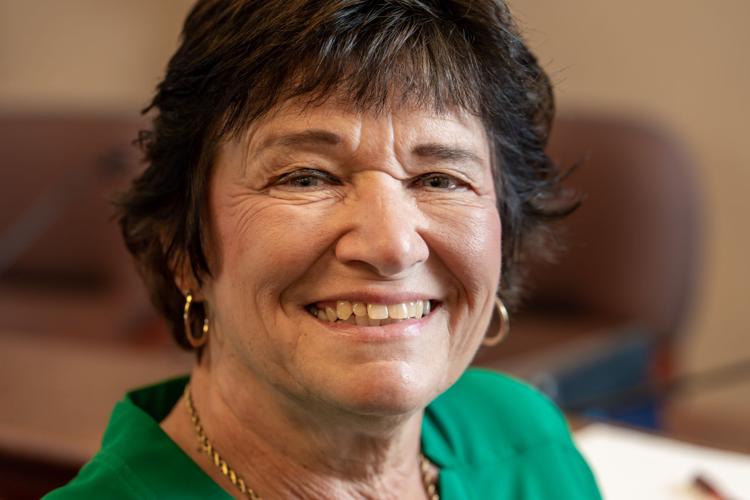 As clerk of Solon City Council, Carol McConoughey performs a wide range of duties, from coordinating business for City Council and the Planning Commission to maintaining official records and interpreting and adapting guidelines and policies.
For those she serves, Mrs. McConoughey is not only the keeper of records, but also the one who steers the ship.
"She keeps all of us grounded," Councilwoman and Vice Mayor Nancy E. Meany said of Mrs. McConoughey. "She is the keeper of the keys."
A Solon resident since 1972, Mrs. McConoughey is one individual that everyone relies on, Mayor Edward H. Kraus said.
"She has impacted me long before I was mayor," Mayor Kraus said of his 16 years on City Council. "She kept council together and kept the ship running."
For newly elected Ward 1 Councilman Eugene Macke Bentley, Mrs. McConoughey has been instrumental in helping him navigate the inner workings of City Hall.
"She would reach out and make sure I understood everything and got all the materials I needed," Mr. Bentley said.
Mrs. McConoughey, 70, will retire at month's end after nearly 29 years of service.
She began working in Solon in the fall of 1991 under former Mayor Robert Paulson, splitting her time between being the secretary for council and in the Finance Department. As her duties expanded, Mrs. McConoughey would fill in for the clerk, before becoming assistant clerk and then named clerk of council in 2006, replacing Diane Garrett.
Mrs. McConoughey became a certified municipal clerk in 2002.
When it comes to her job description, Mrs. McConoughey rattles off a long list of duties.
"You name it," she said with a laugh.
She is a problem-solver in addition to being the official keeper of records for council and serving as the liaison between the public and council members.
"If there is an issue that comes up, I try to help them solve it," Mrs. McConoughey said.
"I really want to make the council the best they can be," she said.
She has brought to the position an ability to work with others well, including the residents of Solon, she said.
"Sometimes I get people that are very frustrated or been bounced back and forth and sometimes they just need to vent," Mrs. McConoughey said. "I listen to them and try to assist them in any way I can and to help them find the information they need."
When she first began in the clerk's office, they were responsible for selling graves in the city cemeteries, she recalled.
"When someone came in to purchase a grave, they were very distraught and I would try to comfort them," she said. "I have always tried to help people."
"She is just a very calming personality and you need that with all the different personalities she has to deal with," Mrs. Meany said of Mrs. McConoughey.
"We are so appreciative of the service and the assistance that she has provided over the years, not only since the time I have been on council, but all the years she has been serving council and the residents of Solon," Councilman William I. Russo said.
"She has brought a wealth of experience and having done the job as long as she has, she has kept the council meetings moving and running in the manner they were supposed to," Mr. Russo added. "She made sure we didn't make any legislative mistakes."
"She was always so great and accommodating," Mayor Kraus continued.
When he served on City Council he relied on her for everything, Mayor Kraus said, especially because he had a day job at that time.
"Things would come up during the day and I'd be at work and would contact her," he recalled. "She got me though all of those meetings, and she was just so great to work with and such a valued employee for all these years.
"Carol would keep it all together," he added, even with last minute changes.
Mrs. Meany said Mrs. McConoughey could always find information council needed from years ago.
"She would get it to us so quickly and efficiently," Mrs. Meany said.
Mrs. McConoughey, who attends all the council and commission meetings, said the best part of her job was dealing with all of the people and resolving issues. She enjoyed working with all the different personalities, she said.
"In my office, I'm part of the legislative group," she explained, "but I do have to work with both groups, the administration and council.
"I've worked with a lot of wonderful people through the years," Mrs. McConoughey said. "It's like family here. I feel like I've dealt with a lot of situations and done a good job."
Mrs. McConoughey said she is retiring to spend more time with family and to pursue her hobbies. An avid boater, Mrs. McConoughey has three grown children, Nichele Thomas, Nathan McConoughey II and Mylon McConoughey, all Solon City School District grads, five grandchildren and three great-grandchildren,
A native of Cleveland and 1968 graduate of Aurora High School, Mrs. McConoughey lost her husband of 45 years, Nathan, in March of 2013. A Solon native, Mr. McConoughey owned Union 76, a service station that was located on SOM Center and Solon roads. He was a well-known mechanic in the Solon area and very involved with cars and racing.
The McConougheys spent every weekend on their boat in the summer.
Mrs. McConoughey also plans to spend time fishing and nurturing her garden.
"It is time for me to retire while I can still do the things I enjoy," she said.
Mayor Kraus said City Council will appoint the replacement.
"She will be missed," Mayor Kraus said, "but I'm happy for her to be able to have the time to do what she wants to do."
Mr. Bentley said when he heard of her retirement, he felt emotional. "It's heartbreaking she is leaving but I know it's best for her to do this," he said. "It will be a big loss and hard to fill her shoes."
"We will miss her enormously," Mrs. Meany said. "I look at her as a friend, too."