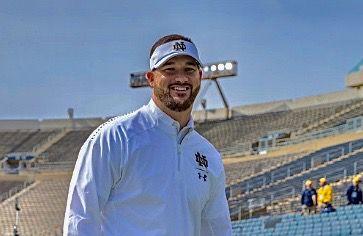 Cody Coley's eighth-grade classmate Robby, a junior gold-glove boxer, was getting all muscled up, and Coley knew he had to get in on it too.
Twenty years ago, Coley and his schoolmates were at the age when testosterone starts to affect their appearance and development, and there's nothing more manly than pumping some iron.
The only problem was, Coley grew up in the small southern town of Wynne, Arkansas, about 40 miles west of Memphis, and the closest gym to his home was a whistle-stop away.
"Robby's dad put him in boxing, and he used to lift weights all the time, and Robby was all muscled up," Coley said. "And I remember thinking like, 'Man, I've got to lift weights.' So, when I was in eighth grade, I wanted to get my mom to take me to the gym. And we lived in a small town in Arkansas, it was like 9,000 people, and there weren't a lot of gyms nearby."
Coley said he became a little obsessed with working out, but he couldn't ask his mom to drive him across town every single day, which was what he wanted.
But by the strength of the Lord, as Coley put it, a facility called Gym 2000 was built literally across the bean field from his house.
"I used to put waders on, and I'd walk across this bean field, and I'd take my waders off, and I'd go in and work out," he said. "And so, I would do the football workout every day, and I'd come home, and I'd run in the street, and then I'd go to the gym, and that was kind of what I did. That was my routine. I was kind of my own little bootleg strength coach.
"So, before I knew it, that's kind of what really got me interested in training and coaching."
In January, Solon High School announced Coley, 33, as its head strength and conditioning coach for the Comets' entire athletic program. He arrived at Solon after working as the head strength and conditioning coach at Licking Heights High School, just outside of Columbus, through Ohio State University's Wexner Medical Center program.
Coley's own athletic background comes in football. He played quarterback at Wynne High School under hall-of-fame coach Don Campbell.
During Coley's high school days, Wynne was a football powerhouse, winning state titles in 2001 and 2004. The 2001 team, when Coley was a freshman, was headlined by running back DeAngelo Williams, who went on to play at Memphis and was a first-round pick in the 2006 NFL Draft by the Carolina Panthers. He was a Pro Bowler and two-time NFL rushing touchdowns leader.
"My freshman year we won state, and then my senior class won state," Coley said. "But here's the kicker – I transferred out after my junior year. We ran the ball like 99.9 percent of the time. And I was like, well, I want to go play college football. I can't get recruited being a 6-foot quarterback handing the football off. Like, that's not going to happen.
"So, I transferred out and went to a different school – a very non-wise decision. My senior class went on to win a state championship."
Coley ended up walking on at Division II Arkansas Tech University. But, as one of the first in his family to go to college, the financials became a struggle and Coley ended up getting a factory job while attending classes, instead of playing football.
While he was finishing his degree, Coley ended up becoming a police officer. In 2010, he graduated top of his cadet class from the Arkansas Law Enforcement Training Academy and won the top physical training award. He went on to serve four years in the Jonesboro Police Department.
"I'm always a person seeking a challenge," Coley said. "My high school was one of the best in the state, and we had a standard. Our coach would always talk about tradition. And that kind of stuck with me in everything I'd done. When I worked for Jonesboro Police Department, we were one of the better police departments in the state. It's a very hard department to get hired by, and so I always really gravitate to working and being with the best."
Jonesboro isn't necessarily a city with a bad rap, but it's located 40 miles from Blytheville, Arkansas, which has one of the highest crime rates per capita in the state. It's also about 50 miles from Memphis and 110 miles from Little Rock.
So, a lot of times people would find themselves hiding out in Jonesboro, Coley said.
"And me being the top of my class in the academy, and kind of being known as a PT guy in pretty good shape, and I was really fast, I had a reputation," Coley said. "So, I always got put in a high crime area. And, yeah, I definitely found myself in some pretty hairy situations multiple times and saw some pretty hard things that don't go away."
As it relates to his work as a strength and conditioning coach, Coley said he tells his athletes they can strive to be really successful through "the hard" every day.
"I mean, you've got two choices: you can go out there and attack adversity every day, or you can let it come find you," he said. "And my mentality is, I'm going to go find it. I'm going to go find it every day, and we're going to see who's the best man at the end of the day when we do that. So, I try to pass that message along to our athletes."
After four years as a patrolman, Coley exited law enforcement and entered the corporate world as an operation manager for a logistics company. But the office environment made him a little stir crazy, and he knew he needed to do something else, he said.
That's when he got involved as the head strength and conditioning coach at two inner-city high schools in Memphis, where he met his girlfriend, a Cuyahoga Heights graduate who's now a pediatric psychologist.
Coley followed her to Cincinnati Children's Hospital and found a strength and conditioning job at Middletown High School, just outside of Cincinnati. He then had an opportunity he couldn't pass up as a paid assistant at the University of Notre Dame.
"That was kind of a dream at the top of my list," Coley said. "So, I went there and learned from coach Matt Balis and coach Jake Flint and had the opportunity to come back to Cincinnati and work with some high schools here."
Balis is the director of football performance, and Flint is the director of football strength and conditioning for the Fighting Irish.
After six months in South Bend, Indiana, Coley moved back to Ohio and kept his eyes on the jobs board while working at Licking Heights through the Ohio State's Wexner Center. That's when the opening at Solon popped up.
"I looked into it, and I was like, well, I might as well put my name into the hat," Coley said. "And the goal at Solon is very simple: we're here to win state championships. If we don't look in the basketball arena and look at the banners and see a bunch of state championships, then we ain't where we need to be yet. So, there's work to do."
Coley's philosophy as a strength and conditioning coach is, "Effort. Attitude. One more," he said.
One of the pinnacle aspects Coley wants to instill in student-athletes at Solon is their mental fortitude. He said young athletes like to portray confidence, but, at the same time, they can be very insecure. He described it like a duck on water.
"So, as a coach, if you follow any type of sports psychology, obviously, you know we've got to keep the process really simple and we've got to help to develop their mindset," Coley said. "How many times does Solon walk on the field to play somebody and have any doubt in their heart that they're going to lose?
"I remember in high school that, one, we were very good, but I never remember walking on the field one time and thought somebody was going to beat us. And that's what I call mental dominance."
Physically, Coley said he believes in developing athletes from the ground up. He said, if an athlete, no matter his or her age, walks into the weight room for the first time and he puts weights in that athlete's hands, then he's already failed him or her.
The first step in building student-athletes' strength is making sure they can control their bodies, and so Coley always functions everything around posture, he said.
"I want to teach them what's the perfect anatomical posture," he said. "How do we keep our body in that position and how do we build the arsenal around that foundation? What we say is we don't want to shoot a cannon from a canoe."
At the same time, Coley said he doesn't want to be the new guy coming in to take over a program and tell everybody that they can't use weights, because almost everybody values weights.
But if a student-athlete can't control his or her own body weight – for example holding a squat pattern for 30 to 45 seconds – then loading the bar with weights won't end well.
"You'll see that most people who hold a body-weight squat for just 30 seconds, well, something's going to happen," Coley said. "Does their knee start to bow in? We know they've got quad weakness. Does their shoulder start to fall forward? We know they've got lower back issues. Do they put more of their weight on their toes than their heels? We know their glutes are weak."
A blessing in disguise, a lot of athletes don't have access to a ton of iron with gyms shut down from the coronavirus, Coley said. So, he gets to work remotely with them through a software program called Team Builder to help shape them in the meantime.
Through the software, Coley's created a program for his athletes where they can take videos of several base movement patterns, and then he can send them messages on how to tweak their forms and mechanics.
He's also set up a student-athlete questionnaire about their sleep, their emotional levels, their energy levels, their academic stress, their eating habits, their soreness and so on, with a threshold set to make sure they're where they need to be, he said.
"If it's an athlete I haven't got to spend a lot of time with, I can reach out and say, 'Hey, how are you doing? What's going on? I saw that your questionnaire showed that you didn't get a lot of sleep last night. Is everything going OK? You need some tips?'" Coley said. "And that opens up a forum to let them know that, 'Hey, I'm still checking on you.'
"Even though I haven't spent a lot of time with them, I'm still checking on them. That, to me, is the most important thing in life. Who cares what sport they play? We're here to help them be a well-rounded human."
Coley also set up what he calls a SWAT program, which stands from Spring Workout Accountability Teams, with the Solon football players, which involves taking eight leaders who get to draft their teams of eight or nine guys.
The process of organized incentive-based training has each of those eight teams set up on a points system that challenges them to outscore the other teams through their involvement with the strength and conditioning guidelines Coley sets in place.
"Instead of me trying to send a group message to everybody, I can go to the eight leaders and say, 'Hey, tell your team this,'" Coley said. "And I can take a personal video, maybe it's a motivational thing, maybe it's just a, 'Hey, we need to move this way,' or do this for the workout today. So, it keeps them involved and allows me to stay connected with them."
With Gov. Mike DeWine announcing April 20 that Ohio schools would remain closed for the remainder of the academic year, in turn triggering the cancellation of spring sports by the Ohio High School Athletic Association, the virtual coaching for strength and conditioning is a big factor in what will keep athletes in shape and ready, once they do return to their sports.
Coley said, when he brings up Solon to people in Columbus or Cincinnati, they may not know the name other than it's a school district that's done really well academically.
"To me, that's great, but we have work to do," Coley said. "When you say Solon High School, people need to think, 'Oh, my god, yeah, they're good,' at anything we do. So, a lot of it is just preaching to them every single day in believing we're going to be the best and we're going to put in enough work every day to achieve that."