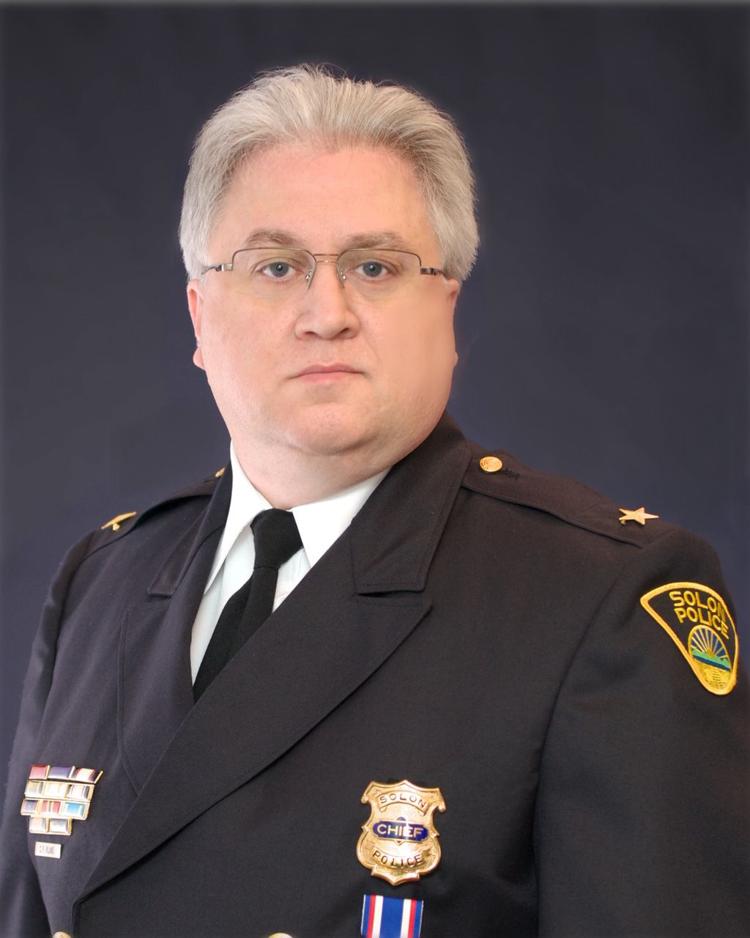 Police Chief Christopher P. Viland will be leaving Solon to take a new position in the city of Cleveland.
Mr. Viland, a Solon resident who became chief in 2011, has been named Cleveland's first police inspector general, a new position that will monitor and audit Cleveland Division of Police policies. He accepted the position Aug. 5.
His start date has not yet been determined, said Sgt. Jennifer Ciaccia, public information officer with the Cleveland Division of Police.
"It is with a heavy heart and after much deliberation that I have decided to retire after 32 and a half years of service to the City of Solon," said Mr. Viland, 55. "My primary goal has always been the safety of the people who live in and come to the city of Solon along with, as importantly all the people who work here in their service.
"I am honored to have served with the present and past members of the department, and it is solely because of their commitment and dedication that we have been successful as an organization," he added.
Mayor Edward H. Kraus said Mr. Viland will be with the city through Sept. 3 and the position in Solon has been posted. Mr. Viland is paid an annual salary of $126,995 and longevity of $12,699 as police chief in Solon.
Mayor Kraus said his intention is to lead the interview process but with input from police chiefs throughout the region, as well as representatives from the Solon police department and Human Resource Director Nancy Stolarsky for a five-member team.
"I'm not going to make this a long process," Mayor Kraus said. If it does take time, he said an acting chief would be named. He has not made that decision as of yet.
Mayor Kraus said Mr. Viland leaves big shoes to fill.
"For me, it's sad," Mayor Kraus said. "I don't have any other words to describe it."
Mr. Viland is the "consummate professional" who has led the department and instituted numerous changes and advancements, the mayor said.
Those include instituting the idea of community policing, Mayor Kraus said, through such initiatives as the Citizen's Academy where 350 individuals took part.
"That has changed the police department and community for the better," Mayor Kraus said. "Chris (Viland) was the driving force in that."
He also took the community to higher levels through such events as National Night Out, presented now for eight years as a way to break down walls between the community and police and open lines of communications.
Mr. Viland also led the department in the area of technology, Mayor Kraus said, as well as brought people up through the ranks. He is credited for the department's active and thriving full-service jail, and has worked to bring in outside communities to use the jail as a way to offset costs and generate revenue.
"You will never replace Chris Viland," Mayor Kraus said, adding that he left the department a better place.
The new chief will be able to build upon these strides, the mayor said.
Mr. Viland's new role was announced last week by Cleveland Mayor Frank G. Jackson, Director of Public Safety Michael McGrath and Chief of Police Calvin D. Williams.
Chief Viland will be responsible for monitoring, reviewing and auditing policies and practices of the Cleveland Division of Police. A civilian role, he will also determine compliance with federal and state laws and review the effectiveness and consistency of the division's bias-free, community policing and procedural justice principals.
Mr. Viland, a 1982 graduate of Chagrin Falls High School, began in Solon in 1987. This was his first and only law enforcement job. While working as a police officer, he attended undergraduate school at Cleveland State University and law school at Cleveland Marshall College of Law where he graduated Summa Cum Laude in 2004. He is a general practice attorney.
"Mr. Viland comes to us with an extensive background in law enforcement, with long-term experience as Chief of Police of the Solon Police Department," Mr. Williams said in a press release issued last week. "Furthermore, his extensive experience practicing law will bring an additional layer of expertise which will help the division to continue to make necessary changes while striving for excellence."
Mayor Jackson said this new position is one of many changes set forth in fulfillment aspects of the federal consent decree, "and I remain fully committed to implementing them all.
"Today, we are one step closer to reduce crime and better ensure public safety while also working to improve the relationship between the city's police division and the communities they serve."