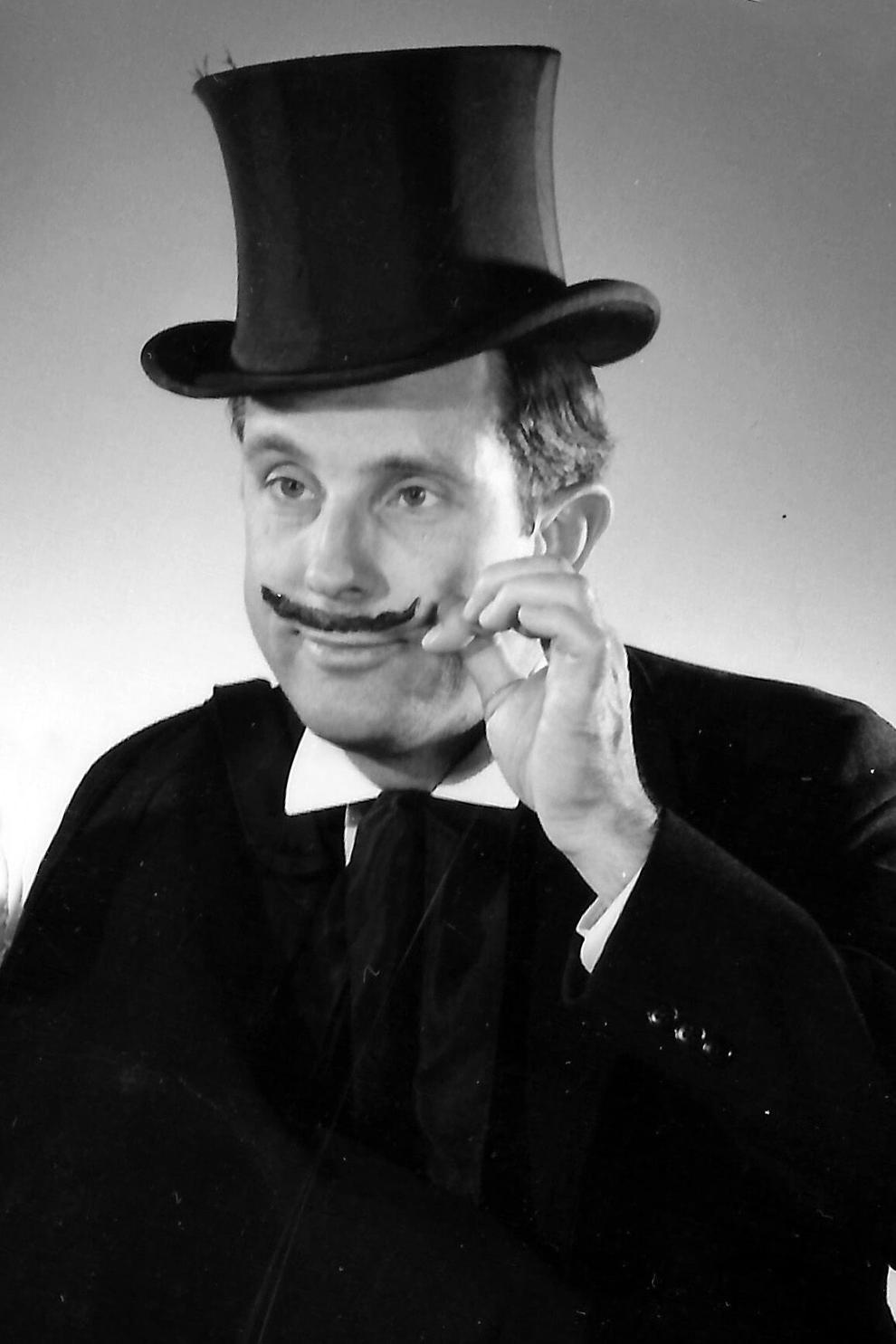 There are many things we can do masked and at a socially acceptable distance, but a live performance at places like the Chagrin Valley Little Theatre is not one of them.
In 2020, its 90th year, the pandemic snapped CVLT's streak as one if not the oldest and continuously operating non-professional community theaters in Ohio. It could remain dark for its 91st year as well.
It is unfair then that this cultural and entertainment gem should suffer still more irretrievable loss with the passing of two of its giants.
Don Edelman died in September and Rollin DeVere II just two weeks ago, both from complications of COVID-19.
Both men did it all for and at the main stage playhouse on River Street and its little black box stage next door. As CVLT contemporaries and friends, Don and Rollin were the theater loyalists who kept the place afloat in hard times and reveled in its successes during its high seasons.
The Renaissance Man – I don't remember the first time I met Rollin but it was shortly after we moved to Chagrin Falls. He was still a young man but carried himself with dignity and spoke in such a way that convinced me he came from English aristocracy.
Imagine my surprise the first time I saw him on stage at CVLT in one of those in-one-door-out-the-other, slap-and-tickle French farces. There was Rollin doing a good share of the chasing and tickling in character as a lisping Spaniard. Hilarious!
It was a you-can-never-tell-a-book-by-its-cover moment. By the time he retired, Rollin had taught languages at University School for 40 years and coached track there as well. And he wrote plays.
The theater's Drew Rothman put it best when he added this to the CVLT Facebook page following Rollin's passing on Jan. 21.
"Rollin was an incredibly dedicated volunteer who took on countless tasks big and small. As his beloved Shakespeare said, 'All the world's a stage, and all the men and women merely players. They have their exits and their entrances; And one man in his time plays many parts.' Rollin played every part from procuring show licenses, to labeling and hanging photos, to cutting sound effects and even regularly climbing the ladder to update the marquee signs."
He was the surprise that kept on surprising. What couldn't he do?
As example, there was the slim volume of Rollin-written limericks – "Hometown Limericks" he titled it – that arrived unexpectedly in the mail one day. No note, no explanation and unexpected from a "man of letters" who loved Shakespeare, Gilbert and Sullivan, the art of the farce, melodramas the campier the better and limericks.
Among his favorite roles was as tongue twisting Major-General Stanley in the theater's 1984 production of Gilbert and Sullivan comic opera "Pirates of Penzance." The theater's video production of the show will be streamed in March and available with a "pay what you can" virtual ticket.
The Chagrin Valley Little Theatre plans to stream the full digitized VHS recording of the show March 19, 20 and 21. Details on this event will be available on the theater's website www.cvlt.org.
As a matter of record, Rollin's mother Audrey DeVere was among the early performers of the Little Theatre. He continued the family tradition then grew the legacy when he married the former Judy Conrad whom he met on the CVLT set of Tennessee Williams' play "Summer and Smoke."
They would "tread the boards" together many more times at the little theater including in "Love Rides the Rails," one of those melodramas he loved so much.
There were other shows as well. Judy once told me she fell in love with her future husband who "looked so cute in tights," which he wore in one of the musicals they were in together.
Their daughter, Lydian, continued working with the CVLT until marriage took her away from Ohio. As mentioned, son Rollin III remains active behind the scenes at the theater working, as did his dad, to preserve CVLT's history.
Rollin DeVere II was a lot like Forest Gump's box of chocolates. While you never knew what you were going to get, it was all good. And did I mention he possessed the best pair of eyebrows ever? They had a language of their own.
The last time I saw Rollin he was checking names and handing out programs at CVLT's River Street Playhouse at the end of River Street. Rollin was a man of few words but gave me one of his courtly nods and then in his way of greeting did that thing he did with his eyebrows.
He turned 90 in September, his birth was in close proximity to that of the Chagrin Valley Little Theatre itself and whose fortunes he helped guide.
A Man For All Seasons – I met Don Edelman about the same time as Rollin. My husband was involved in the theater and we had a cast party at our house on East Cottage Street.
I remember Don being quite at home at that party, dangling my two-year-old daughter Sarah on his knee while commanding an audience with war stories from past productions.
As a teen, she would meet Don again, he as "Little Chap" in the Anthony Newley musical "Stop the World I Want to Get Off" and she in the chorus of that show.
Like Rollin, Don was raised on a steady diet of theater as a member of the Cleveland Playhouse "Curtain Pullers," its children's theater troupe. He performed alongside Joel David Katz who would go on to become stage and screen star Joel Grey.
A favorite story of his was that, of the two boys, he and Joel Katz, he was the one who all agreed – was the more talented. This was accompanied by a feigned speech of "oh, what might have been" remorse. He clearly liked recalling the memory and telling the story.
As a student at Case Western Reserve University, Don was a varsity wrestler and gave dance lessons to help with college expenses along with starting his own theater company, the "University Heights Players."
But Don was more than a thespian. I think of him as a modern day Man for All Seasons. Stagecraft was just one of three talents.
The other two were to be a horseman and a designer, and in his long, rich lifetime he was able to achieve all three successfully and decades before his final 91st birthday. And he would often attend to each of his loves on the same day.
It might be Thistledown at dawn where he checked his stable of beloved thoroughbreds. Then back to Chagrin Falls and his drafting table at Design to Serve, his commercial kitchen design business.
In the evening, he might be onstage at the theater rehearsing a show he was in or directing or doing both. Or there might be a theater board meeting to attend or lead, or some other task that needed attention.
Daughter Jodi Edelman Agapito said his energy was a wonderment. "He was tenacious, constantly going and doing. He never stopped."
He was among those theater people who saw the need for an alternative stage for less mainstream plays and worked to see the River Street Playhouse come alive, co-founding it alongside the late Steve Shields, and continued to guide this welcome new direction for the theater.
Don played so many roles in his near 60 decades at CVLT, but he seemed most proud of his turn as John Adams in "1776," a part he played multiple times.
For all of his gifts and contributions to the theater, Don was awarded CVLT's Lifetime Achievement Award in the first year it was presented in 2016. He set the gold standard for an award we suspect will be rarely given.
The last conversation I had with him was in Chagrin Falls Village Hall after a meeting of the arts commission, of which he was a member for several terms. He represented the theater.
It was probably a year before he passed. The theater was not the subject of our conversation this time.
He had found a new horse and he was in love. There was something special about this one he could not quite define. But, then at age 90, did he really want to take on another project? I still wonder if he bought that horse.
In July 2020, I received an email from his wife Cindee Catalano, the love of his life for almost 40 years. She was writing because Don remembered I had not seen his 2016 performance in the title role "Visiting Mr. Green" and of which he was especially proud.
He wanted me to know the theater was streaming its video of the play the following weekend. I bought a ticket, but my streaming system failed. Don died two months later.
The passing of Rollin DeVere II and Don Edelman is the end of an era. That is not hyperbole or a catch phrase used lightly.
Both men came to play leadership roles during a time of great artistic success for the theater giving their talent, resources and the requisite blood, sweat and tears and probably more than their quota of sleepless nights.
It was during the 1970s and 1980s when CVLT made news by becoming among a precious few in the country to produce Broadway musicals almost immediately after they were made available to non-professional theater companies.
They included "Man of LaMancha," "1776," "A Chorus Line," "Annie" and "Chicago."
All were big shows requiring large multi-talented actors who could sing and dance; many had intricate sets, technical challenges and associated costs other community theaters would not attempt.
For Don and Rollin, nothing was too big or impossible. They were the Man for All Seasons and the Renaissance Man, visionaries who provided a steady influence, calm resolve, wit and intelligence.
Now, with their passing, they are co-starring as the "patron saints" of the little theater on River Street.