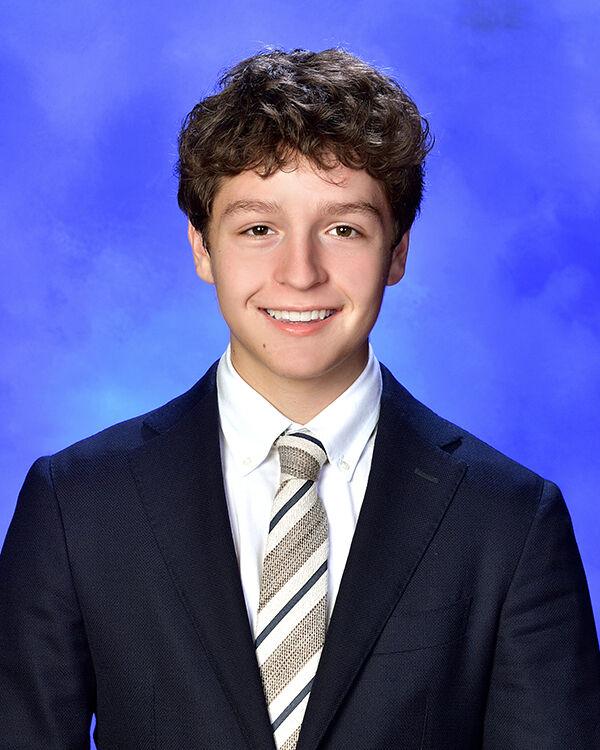 GATES MILLS — Vince Stafford, a junior defenseman for Gilmour Academy Prep Hockey, is giving back to his community through his love of the sport. In a year filled with challenges due to the coronavirus pandemic, Vince found a way to follow his school's mission to create a more humane and just society.
Vince, 17, of Hunting Valley has attended Gilmour since he was a child and thrives at the academy as a member of the prep team, the highest ranked of five boys hockey teams at the school. He created and sold a team program to highlight his talented teammates and coaches and the proceeds, about $5,000, will go to University Hospitals Rainbow Babies and Children's Hospital.
"Strength, courage and resilience can ultimately be defined by the children who are served by Rainbow Babies and Children's Hospital every day," Vince said in a written statement. "These young warriors and their families show true determination and fearlessness, and we are happy to support this important cause. I hope this inspires others to make similar efforts to answer the call to serve and to give back to the community."
Vince said that his sister, Gianna, created Foundations for Fall, a fundraiser for the children's hospital that was held at Beachwood Place. He said that he wanted to continue that legacy and the best way to support the hospital was through his hockey program. Vince wanted to help the children undergoing treatment at the hospital.
There are 21 roster players in the team program, which includes information such as each player's photo, position, academic honors, hockey honors, favorite hockey memory and an interesting fact. Many of the players are from other states, including Minnesota, Arizona and Alaska, and other countries such as Canada and Russia. Since most of the players are "dormers" and their families do not live nearby, Vince said that a team program would allow families to learn more about the team.
"I thought it would be a great thing to help families learn about the players and who we are because they can't meet us in person and come to our games," he said. "I thought it would be a great way to highlight our team and show people who can't come what we're really like as people."
The members of the prep team faced a grueling year due to their busy schedule and various issues with the COVID-19 pandemic. Players were quarantined because of possible COVID-19 exposures three times throughout the season, two of which were back-to-back for 28 days of quarantine in a span of 31 days. They also endured an arduous schedule, such as a 14-day stretch with nine games. On the weekends, the team can play up to four games. Some games were canceled just minutes before the teams got on the ice.
"It was a lot of work, but we love to do it," Vince said. He spoke highly of Gilmour's hockey program, which includes more than 100 players spread throughout five boys teams and two girls teams. There is a strong sense of community and alumni return often for skates during the season, he said.
Vince sent a questionnaire to his teammates to gather information to put in the program. The 24-page color program has glossy pages for the coaches, players and team photos. Vince said that he spent about 80 hours on the project over the course of several months. The printing was donated by Ryan Mueller, Class of 2022, and his father's company, Suburban Press, Inc. In addition to that corporate sponsorship, other families wrote checks to support Vince's cause.
"Vince Stafford leads on the ice, in the classroom and also takes the time to recognize the needs of others," Coach Mike Chiellino said in the release. "This is a year to remember, and we are excited to have this team program to recognize the talented and committed team of these student athletes, while helping Rainbow Babies and Children's Hospital."
The programs were sold at games starting in January for $20 and families ordered copies to be mailed to their homes. Vince said that the support he received from his coaches, teammates and their families were the driving factor behind his fundraiser's success. Next year, he plans to expand his fundraising efforts to include all five boys hockey teams at Gilmour Academy.