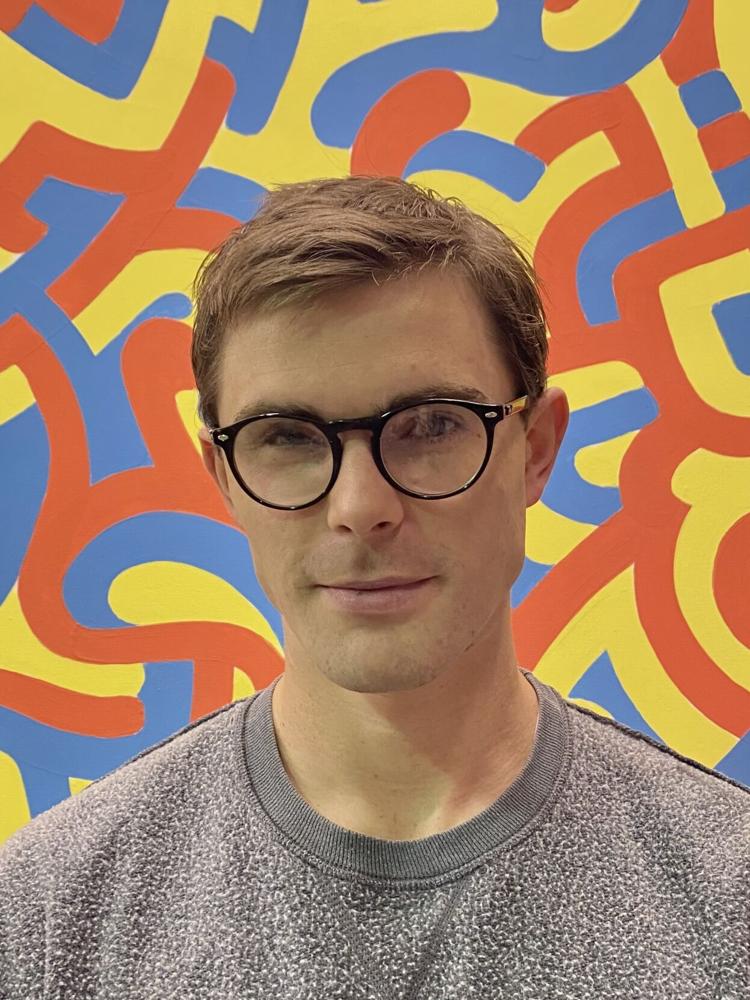 Now anchoring a new sculpture park at the Chrysler Museum of Art in Norfolk, Virginia, is a vibrant, 32-foot sculpture named "Jumbo Wumbo Technico." The creator of such a structure is 2009 Chagrin Falls High School graduate Tommy Fox.
The sculpture is made up of colorful symbols called "splox," named with the help of friends on social media, Mr. Fox said. The loud installation brings popping colors to the public to enjoy simply for its attraction or to make their own meaning.
A group of donors, including J. Douglas Perry, Thomas L. Stokes, Jr. and Joseph T. Waldo, commissioned Mr. Fox, 29, to do the artwork because of his "whimsical" style, according to museum officials. The work was then gifted to the museum. The installation of the sculpture in the new park, which now serves as the southern gateway to the museum campus, was complete by Oct. 31 with an opening ceremony.
The commission came to the former South Russell resident after he met the chief curator of the museum at an art fair in Virginia and stayed in contact with him and the group of donors, Mr. Fox said.
"Eventually, I found out that they were working on this sculpture project and they'd been looking for an artist," he said.
"I said, 'Well, I'd give it a try,' and they said, 'All right [...] have you done anything like this?' I said, 'No,'" he recalled, pointing out this is the first large-scale project he has ever done. "But they let me just start making concepts and renderings."
Mr. Fox said he spent probably about 250 hours in one month making designs, sketches and models until he found just what they were looking for.
"They wanted to find something that was really big and bright, but not political," Mr. Fox said.
"It was a lot of, like, alchemy, I guess, in regard to getting the final composition," he said on tackling this first large-scale project. "Just a ton of trial and error."
He erected the sculpture with the help of Thomas W. Godfrey, Jr., Colonna's Shipyard, Inc. and architects John E. Payne, Jr. and Thom White, according to museum officials.
"Working with all these different contractors and engineers and architects and landscape designers and lighting designers and painters and installers, it's wild," Mr. Fox said. "It's so wild."
Mr. Fox, who currently resides in Richmond, Virginia, graduated from the College of Charleston in South Carolina, then took his career to Virginia as a self-employed artist.
His career as an artist was not clear right away, he said.
He first enrolled in the college for its location and status as a liberal arts and science school and studied "a lot of things." He said he "dropped out" of the college and took a semester off, noting he felt unfocused and stressed.
"I was stressing about all this – you know, the cost to go to school if I didn't know what I was doing. And then I started making art," he recalled during his break from school. "That was the first time I'd really made art before and I just fell in love. I was like, I should just go back to school and do this."
He re-enrolled in the college and earned his Bachelor of Fine Arts in studio art in 2014. He said his career as a self-employed artist has been a "steadily developing job."
He took a number of teaching positions out of college, but now puts his focus in freelance work for various media, including painting, printmaking, sculpting and even design. Work is steady now, he said, with years under his belt – and a 32-foot sculpture at a major American museum, of course.
Mr. Fox said he never sticks to one medium.
"That should be an easy question for an artist," he said when asked to describe his own style.
One day he said he works on cartoon illustrations for one project, then wind down by reading and writing poetry, then move to making 3-D sculptures.
"I like making stuff. I just compulsively want to make stuff," he said, adding that he now wants to go even bigger with projects after the completion of "Jumbo Wumbo Technico."
So, what does the "Jumbo Wumbo Technico" sculpture actually mean?
"As a blanket statement, it doesn't mean anything," he said. "As someone who's always doing different things in visual arts, I think I've realized that it's really to enjoy the visual experience itself, just the way the colors interact and the way that size can affect how something looks.
"Visual art can just be beautiful," he continued. "It doesn't have to tell you how to live your life. It doesn't have to tell you who are the winners and losers in history. It can just be something that's pleasurable, more interesting."
That being said, Mr. Fox added that he hopes to help bring artists of minority or underserved populations into the spotlight.
Mr. Fox said social justice movements, naming the Black Lives Matter movement, "[remind] me that I have an obligation to use [my] success to bring other artists up," adding that diverse creators are needed for "a more interesting, richer dialogue."