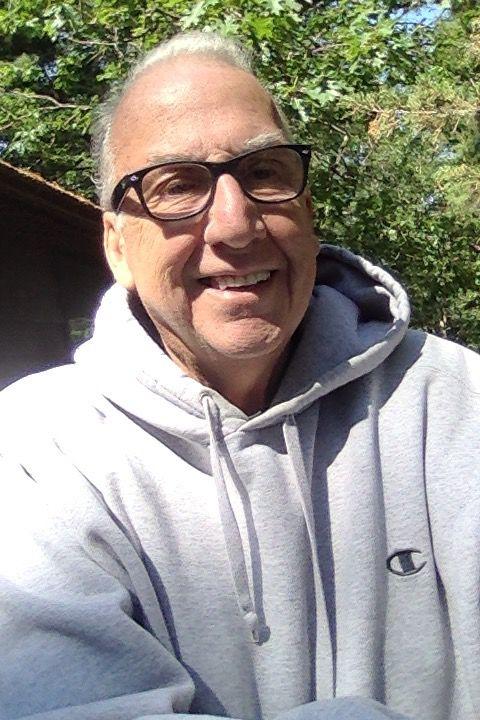 "Life is brief so let's do the things we love to do."
That's the conclusion of Kenston Local School District social studies teacher Dan Gallik who had a near-death experience.
The 71-year-old author has written several books and has become a successful artist since experiencing a brain aneurysm several years ago. His latest book, "Love on Blue Waves," was launched last Saturday at Café Michael in Bainbridge.
Mr. Gallik wrote a previous book on an individual with multiple disabilities living in the Buckeye Road neighborhood in Cleveland. "He did evil things back in the 1950s," Mr. Gallik said of the fictional character.
Mr. Gallik balanced that with a "nice book" on love. Married 45 years to his wife, Nancy, the Bainbridge resident said, "It's wonderful to look into her eyes each morning. I wanted to do a drama about two people who understand what true love is."
It is about two people who fall in love and stay in love," he said of the novel. "Before they find each other they know they will find a person to love."
The couple in the book have a child later in life and it turns out very well, Mr. Gallik said. Recalling writing the book, he noted, "I really got into it and devoted a lot of time to it. True love isn't as dramatic as you think. Two people can celebrate 50 years together with a light smile on their faces. It takes a lot of patience, and two people understand things will change. Love becomes a wonderful treasure," Mr. Gallik said.
He reflected about his own marriage. "It's important just to hold my wife's hand, and she is kind to me and worries about me."
As to the two people in the book, he said, "They know they will find someone and it will be good, and it is. And they know death is coming and they know the love will continue. They will feel this wonderful gift of love throughout eternity." They do die near the same time. It is a glorious event and it will continue through the rest of eternity, he said of their love.
The novel is set again in the Buckeye Road neighborhood. "I wanted to represent people from the 1950s, with mostly those of Hungarian descent. That is what Buckeye represented back then. It was an ethnic neighborhood."
Mr. Gallik has written 25 books and all are set in Ohio "because of the variances of race and ethnic groups that live here," he said. "It's wonderous."
All the books represent the working class of America. He was born in Akron and later met people in the Buckeye area and still keeps in touch. "We are small groups of people just trying to live," he said. In another book he wrote, the story centers on a teacher living in Buckeye.
"I graduated from the University of Akron and got my master's degree at Kent State," he said. While looking for a place to teach, he learned about Kenston, a district that represents all people, including rich and poor, blue collar and farming people and people of different races, he said.
He noted how he lived with his mother in Mogadore, Ohio for a time when he first started teaching at Kenston. "I met Nancy at Kenston, who was a camp counselor and we married and moved to Lake Lucerne." She then taught children with disabilities and second grade in the Solon City School District.
"I loved it," Mr. Gallik said of teaching. He had eight years to go before retiring when he experienced a headache at home that led to an emergency call and the subsequent diagnosis of an aneurysm and surgery. "I lost consciousness for three months and when I awoke, I didn't know anyone," he said. He had to ask his wife what happened. "We have four kids and I didn't know them. I had to be re-introduced to life."
A cerebral aneurysm is a swelling of a blood vessel that ruptures and causes bleeding in the brain. The surgeon repairs the blood vessel, however, the injured part of the brain won't ever be used again, he explained. The other parts of the brain take over, he said.
"I had to relearn to eat, drink, talk and even drive. My role changed from teacher to student," Mr. Gallik said. "My wife was very patient and loving and took care of me."
As with many brain-injured people, he had Sundowners syndrome, he said. "You change personalities when the sun goes down and turn evil. I tried to kill two nurses," he said. "And when the sun rises, I was kind and lovable. It takes about a year to recover."
Remarkably, he said, "It was actually a great experience to go through. I had to relearn life and have people teach me about everything in life," he said.
"I still love teaching people and now I'm doing it with my books," he said. His doctor had told him he had a chance to do what he wanted and could even become a teacher again, but it would be difficult.
"My choice was to be free, but provide for the family. I took care of the children during the day and then got a part-time job at the Pine Lakes Trout Club in Bainbridge, and I helped at a clothing company store," he said.
He started writing novels as well, and he writes poetry every day. He is saving his near-death experiences for another book, he noted.
In the meantime, he is volunteering each day at the Solon Senior Center. "I am meeting some wonderous people there," Mr. Gallik said. "Many have done some very important things in their lives."
His latest book "Love on Blue Waves" is available at Fireside Book Store in Chagrin Falls and through Amazon.com. Another book, "A Story of Dumb Fate," about dealing with a disabled child in a realistic way is also available on Amazon.com.