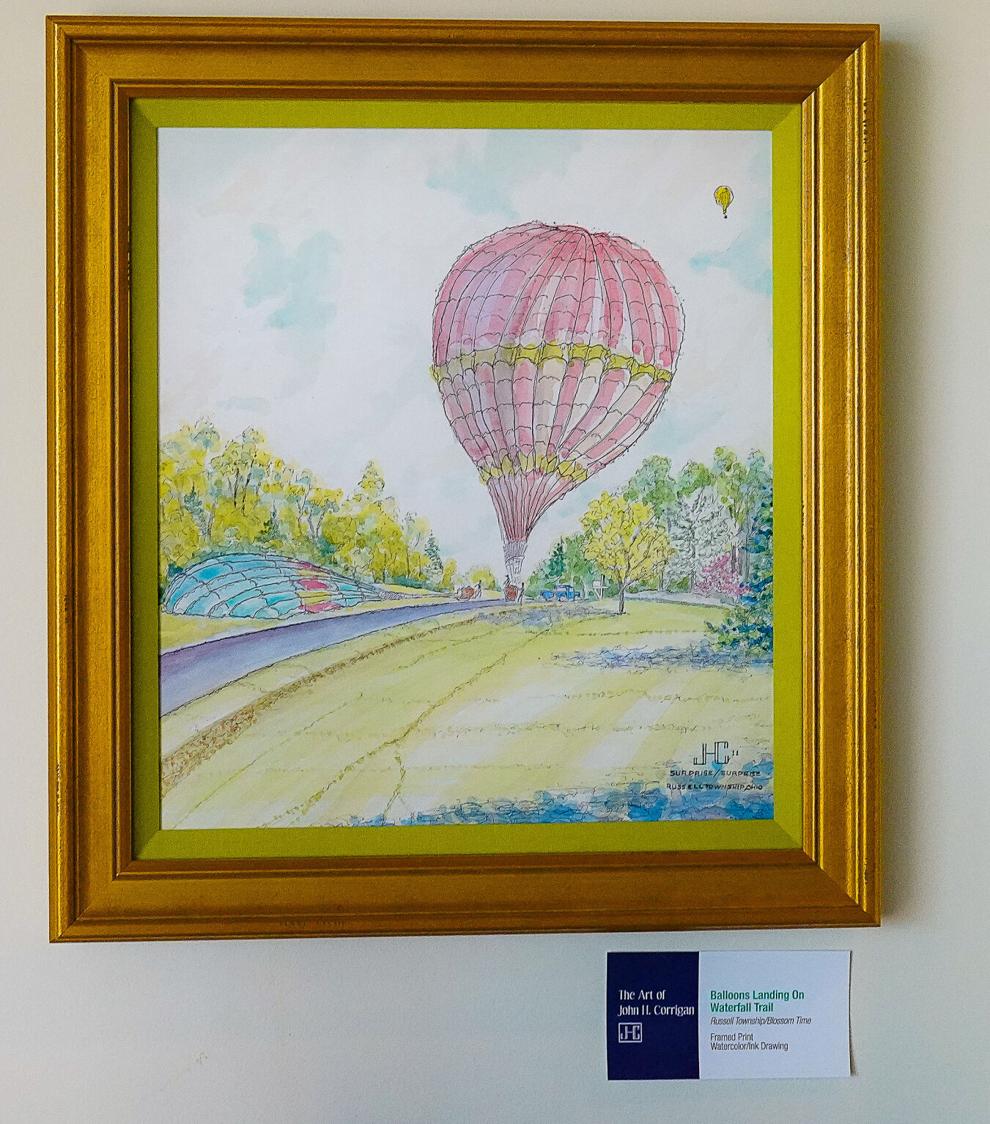 There is a uniqueness in the Chagrin Valley and its scenic surroundings. That has forever impressed artist John Corrigan, who has been painting scenes from the valley for many years. Many of his renditions focus on the Village of Chagrin Falls and surrounding areas including an aerial shot of the village along Main Street.
Mr. Corrigan, 87, enthusiastically shares his works with others, and now more admirers will have that opportunity. Working with Dan Fromson, owner of the Washington Street Diner at 8233 E. Washington St. in Bainbridge, Mr. Corrigan is displaying about 60 of his works on the walls of the restaurant for diners to enjoy. Every inch of space is being used to display the works, all the way to the diner's back door.
"The scenic community we have here is incredible, and I want to show that off," Mr. Corrigan said of displaying his creations.
The dining area has been transformed by the art work. "It has been absolutely wonderful for me to see people enjoying the paintings at the diner," Mr. Corrigan said. They are looking at scenes they see in their everyday lives, he said. They all have their own stories of what they see in the paintings, he said. "They are bringing their own lives into them."
Custom framing of all of Mr. Corrigan's paintings was done by Catherine Kister and John Keglovich, owners of The Frame Center Gallery in Bainbridge.
"They did a beautiful job, and I couldn't be happier," Mr. Corrigan said. "When the paintings were put up, all of a sudden the area was transformed, like a miracle."
The paintings bring the past and future together for people to share, he said. And the charm of the restaurant is that it has a sense of togetherness, where people meet, some on a daily basis, he added.
He has lunch or breakfast at the diner at least once or twice a week. "You meet a lot of people here and Dan is so gracious. Nothing could be finer than being at the diner, that's for sure," he said with a smile.
Mr. Corrigan had suggested the art show to Mr. Fromson, and "Dan said, 'how soon can you do it.'"
The art show will go on indefinitely, or as Mr. Corrigan put it, "forever." Some of the paintings are from his own walls at his apartment at South Franklin Circle in Bainbridge. He called it an "eclectic collection." All the paintings feature either water color or colored pencil.
The aerial painting of Main Street in Chagrin Falls was done from a photograph taken from a Cessna airplane flown by pilot Russ Otto, who has done other photos for Mr. Corrigan. "We have collaborated as close friends on numerous jobs," Mr. Corrigan said. The aerial painting displayed at the diner is a very large print of the original artwork which he has donated to the Chagrin Falls Village Historical Society & Museum, where it is on display.
Balloons flying over the area during the annual Blossom Time celebration in Chagrin Falls are depicted in two paintings. One of the hot air balloon paintings depicts an air balloon with a chase truck landing on Water Fall Trail in Russell where Mr. Corrigan and his late wife Nikki once lived.
There is also a series of paintings of scenes from Music Street out to Ravenna Road (Route 44) and Punderson State Park in Newbury Township. One of the works includes a house on Music Street built to look like a Gothic church. There is a painting of a garden, called "Titans of Industry," depicting businessmen who spurred industry in the 19th century. It was originally built in Cleveland in the 1800s and includes gargoyles seen in early industry. It is enclosed within a wrought iron fence.
The garden was moved to Newbury several years ago, Mr. Corrigan said. It is across from the South Newbury Union Chapel where Susan B. Anthony once spoke about women's right to vote.
One of his paintings features the Geodesic Dome on Kinsman Road (Route 87) in Russell Township and another painting depicts the Modroo Farm on Music Street in Russell. The farm along with Mr. Corrigan's paintings of Blossom Time air balloons appeared on covers of the Chagrin Valley phone directory.
Two of Mr. Corrigan's favorite paintings will be displayed at the diner. One is of a bird's nest and the other is one of stargazer lilies. He did both when taking classes with Chagrin Falls artist Mary Ann Boysen at her studio on Music Street.
Mr. Corrigan said he started painting as a boy during the summer of 1946. His father, a submariner in World War I, was a rector at an Episcopal church in Baltimore, Maryland, he said. He did a painting of Bar Harbor Maine when he took his first painting lessons and it is hanging in the diner.
Arts were very important to the Corrigan family, he noted. His brother David, who died in World War II, was an accomplished musician. His brother Robert was a founder of the California Institute of the Arts.
Mr. Corrigan came to Ohio in 1962 and worked in the graphics design field his whole career, from which he is now retired.
He began visiting the diner when his wife Nikki was living at Arden Courts on East Washington Street in Bainbridge. She passed away in 2017, and they had been married 60 years.
"I love coming here," Mr. Corrigan said. "There is a special feeling about it, with a sense of community and neighborliness. People reach out to be of help to others and it is not uncommon for a diner to pick up the tab for someone else," he said.
Mr. Fromson said the place is like a club. Some people are there five to seven days a week. He got into the restaurant business after being in home construction.
The local scenes in the paintings are familiar to Mr. Fromson. As a boy, he had attended summer camp at the former Red Raider camp in Russell Township.
The back wall features all black and white works and includes a painting of Times Square in New York City. The paintings serve as a focal point in the diner.
Mr. Fromson said he is very pleased to have Mr. Corrigan's work on display at the diner. He is even going to take down an ore boat painting left by Robert Shogren who paints the Great Lakes and bridges in great detail. "All the wall space of the restaurant is transformed now with John's paintings," he said.