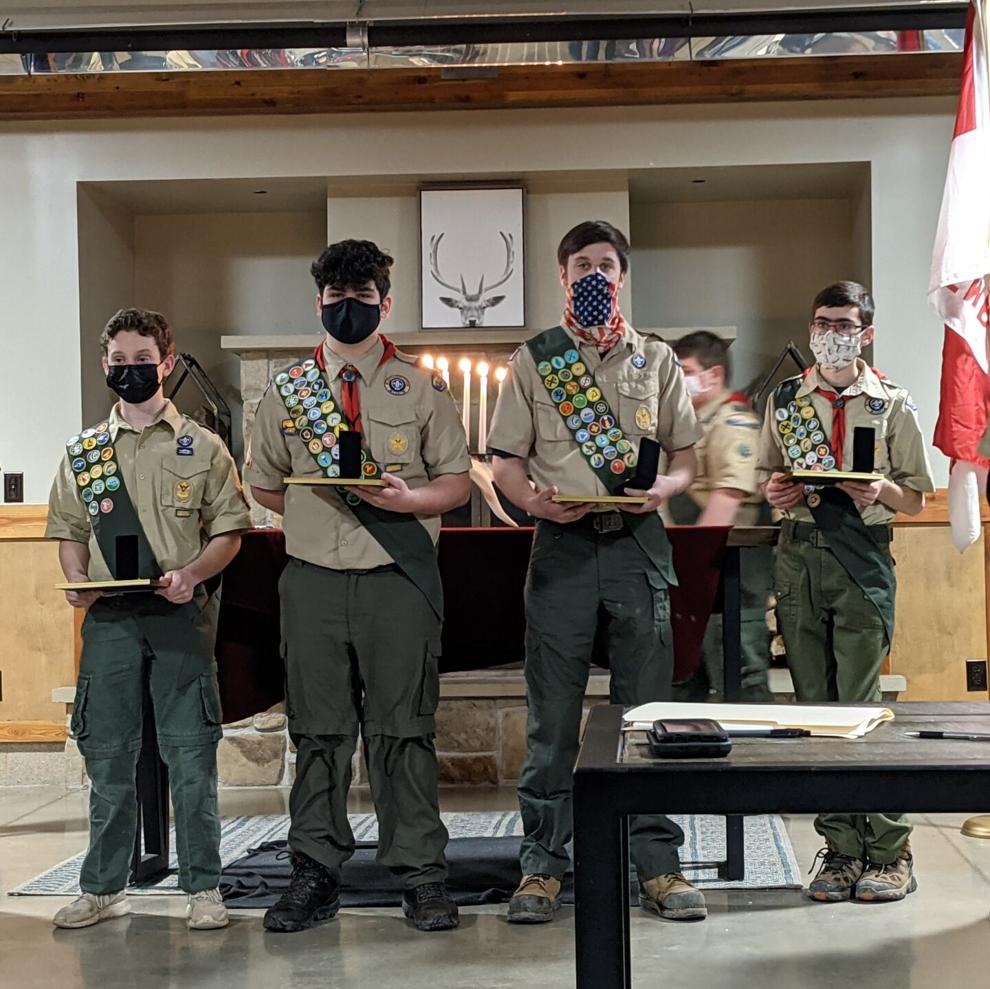 Scouts earn Medal of Merit
Three Chardon High School students earned the Medal of Merit for Meritorious Action Award for putting what they've learned as Boy Scouts to use during a hiking trip last summer.
Students Anthony Baioni, Jake Gabanic and Ryan O'Reilly, along with West Geauga High School junior Nicholas Cochran, of Boy Scout Troop 99, tended to one of their troop's adults who fell and broke his leg on a 4-mile hike into the Dolly Sods Wilderness in West Virginia in July.
Half the troop hiked 4 miles back out of the trail to reach a cell signal to contact emergency services, while the rest of the troop stayed back and provided first aid to stabilize the injury until the troop members returned with EMT personnel.
"The entire process took just over nine hours, most of it in the dark," said Troop 99 scoutmaster Phillip Baioni. "We finally got out of the woods just after 12:30 a.m. The boys were outstanding during this event. Each of them had a role, and they carried it out without complaints."
He said at all times, one or more troop members helped carry the stretcher during their hike back until they could eventually transport the adult to the hospital via vehicle.
The Boy Scouts of America's Lake Erie Council formally recognized the scouts during a Court of Honor ceremony on March 15, where each of the four scouts and the two adults earned the Medals of Merit.
"Between the initial hike, traveling to get help, and transporting the injured scout, some members hiked more than 14 miles that day," said Lake Erie Council service and growth team leader Kevin Wassie.
This award is presented to those who have performed an act of service of a rare or exceptional character that reflects an uncommon degree of concern for the well-being of others, he said.
Financial literacy virtual visits at high school
Chardon High School's C.R.E.W. Foundations and Transition courses, taught by teachers Tracey Britt and Kim Butala, kicked off their Financial Literacy curricular unit on March 2 with virtual visits by Brian Cain, the Newbury branch manager for Middlefield Banking Company.
Students in each course, comprising sophomores, juniors and seniors, generated questions about checking accounts and savings accounts prior to Cain's visit, thereby allowing him to tailor his presentations to the interests of the students.
Students actively participated in the course with checking and savings account questions like age requirements, potential consequences, direct deposit set-ups and more.
Sweet victory in yearbook contest
Chardon Middle School seventh-grader Walter Sweet won the front cover contest for the school's 2020-2021 yearbook, which will be published and distributed later this spring. In addition to having his submission featured on the front cover, Walter will receive a free copy of the yearbook.
Students in all grade levels at the school were eligible for entering their original artwork into the contest with "virUS," the positives of regular handwashing in particular, serving as this year's theme.
"The competition was fierce," wrote principal Tim Velotta in the school's March 10 newsletter to families. "And many of the runner-up submissions will be incorporated throughout the yearbook."
The middle school is keeping Walter's design under wraps to ensure a surprise for all when yearbooks are distributed at the end of the school year.
Public invited to review curriculum
In accordance with the Chardon Local Schools Board of Education Policy, the community is invited to review potential curricular materials that are under consideration for adoption by the district prior to approval.
For its English language arts department, the district is currently considering "Wit & Wisdom" for grade levels kindergarten through seven. The community is invited to review a synopsis of the content of these materials, which can be found at https://bit.ly/witwisdom_review.
Community members who do not have digital access may contact Curriculum Supervisor Kelly Moran at 440-285-4066 for more information.