Student recognized as 'BullyProof'
Chagrin Falls Middle School eighth-grader Jake Evans won $100 after submitting a video to an anti-bullying contest from "BullyProof by Oscar."
BullyProof by Oscar is a nonprofit group that works to help victims of bullying to become stronger and learn how to stand up for themselves and others, created by Oscar Reinart and his dad James. They created a video contest where students were encouraged to create a 30- to 60-second video that offers tips to "rise above and be kind."
All video entries had to reflect the theme of anti-bullying and were open to individuals or collaborative entries. The video then had to be posted on Facebook, Instagram or Twitter with the tag @BullyproofbyOscar. The winners were selected by a panel of judges who were chosen by the BullyProof by Oscar team.
After Jake received notice of placing fourth for his video, he received a $100 Visa gift card and a BullyProof T-shirt, bracelet and challenge coin, which acts as a reminder to act with kindness and compassion.
Head football coach retires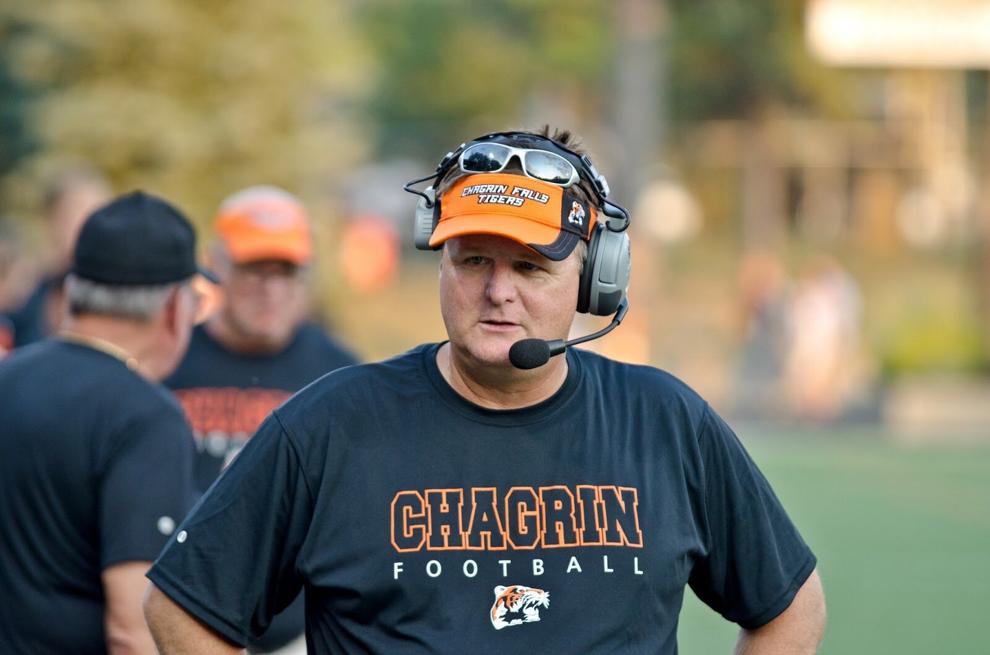 Mark Iammarino, head football coach of Chagrin Falls High School, has decided to retire as the head coach of the Tigers after 26 years. Coach Iammarino will leave the program being the all-time leader in wins.
Coach Iammarino compiled a record of 185-101 and won the conference championship eight times. Under Coach Iammarino, the team made the OHSAA playoffs seven times, reaching the state title game twice in 2009 and again in 2010. Coach Iammarino has been named Coach of the Year numerous times. He also helped coach multiple all academic teams recognized by the Ohio High School Football Coaches Association. He has coached high school and middle school girls basketball and high school track and field at Chagrin Falls.
"Coach Iammarino has been such a tremendous coach for the Tigers," said Athletic Director Charlie Barch. "His retirement is a big loss for us, and whoever takes over has huge shoes to fill. He was very supportive of all the teams and we appreciate all the time he has spent with our student-athletes."
Students of the Month selected
The mission of the Chagrin Falls Middle School Students of the Month is to acknowledge and reward students for exemplary performance. The students depict Tiger Techniques: Think, Integrity, Grit, Effort and Responsibility. Each month, the seventh- and eighth-grade teams collaborate and choose a male and female "Tiger of the Month," and the students receive personalized tiger water bottles from the PTO. November's students of the month were seventh-graders Claire Hoelzel and Hugh Kaselak and eighth-graders Violet Cavanagh and Ben Lewis.
Claire Hoelzel is a dedicated student who participates in class with an engaging and positive attitude, the school stated, adding that she is a thoughtful writer and leader in class discussions with insightful answers to questions. Claire is a member of the cross-country team and a cellist in the seventh-grade orchestra.
Seventh-grader Hugh Kaselak is a virtual student who greets his teachers and class with a positive and engaging attitude, the school stated. Teachers noted that despite the challenges of a virtual classroom, Hugh has gone above and beyond to adapt to the new format. Hugh is a member of the cross-country team.
Eighth-grader Violet Cavanagh is a happy and upbeat student in every situation, the school stated, adding that she is a leader in classroom discussions, projects, debates and activities. Violet keeps a positive and inclusive attitude and comes to class with a willingness to work and participate.
Ben Lewis is an eighth-grader who the middle school stated is a huge asset to the class and school as a whole. He communicates his ideas clearly, according to the school, and maintains academic flexibility with a consistent work ethic. He works to ensure he never lets a group or team member down.
The Chagrin Falls Middle School Speech and Debate Team participated virtually in Mentor's Speech and Debate Tournament. Fraya Brattebo and Eire Ratcluffe took third place in Public Forum in their first virtual competition this year. They swept every round in Public Forum. With a 4-0 start in such a new structure this year and amidst the pandemic, the team said they are optimistic and excited for a busy and successful season.