Chagrin Valley Rotary Student of the Month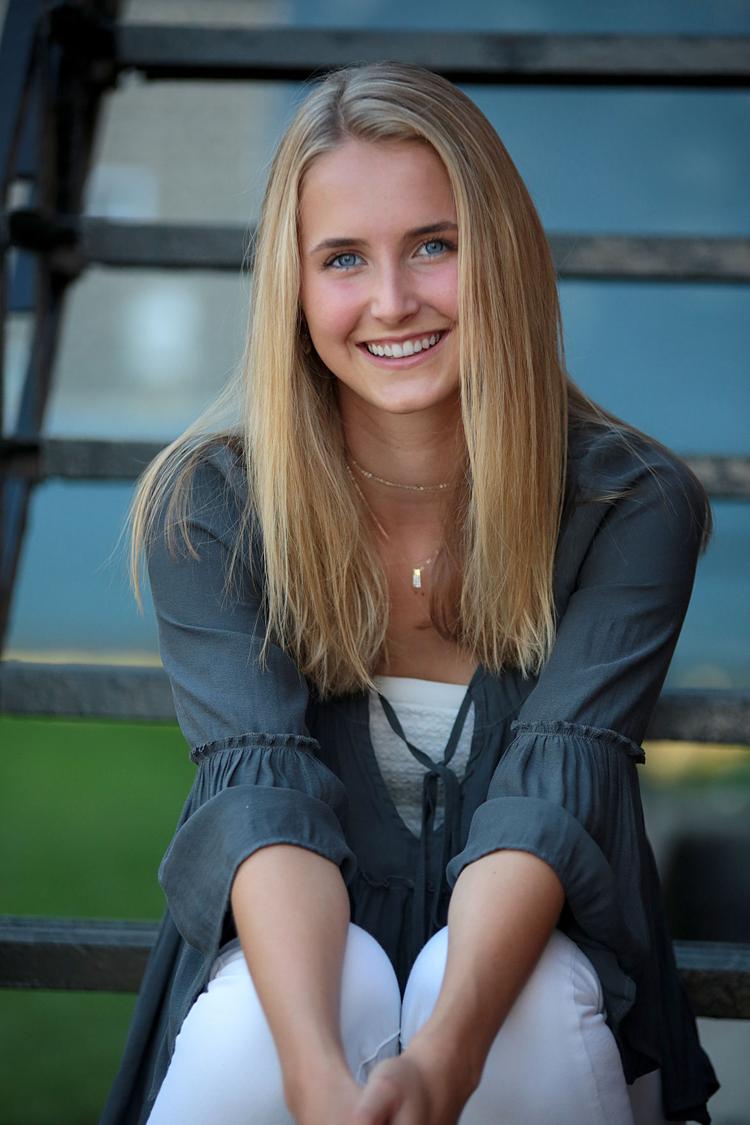 Chagrin Falls High School senior Francie O'Neil has been selected as the May Chagrin Valley Rotary Student of the Month. O'Neil was chosen based on her leadership and service qualities she has displayed in the community.
O'Neil has been the recipient of several awards during her high school career. These include the AP Scholar Award and high honor roll, which she received over a 4.0 GPA all four years of her high school career.
In her time at CFHS, Francie has been involved with several clubs and sports. She is a member of the Philosophy Club and the Chagrin Falls Educational Foundation student board, serves as the co-president of the Engineering Club and was a member of the Superintendent's Advisory Committee from sixth to tenth grade. Francie was on the Girls' Lacrosse Team her freshman and sophomore year and has been a member of the Varsity Swim Team all four years of her high school career. She served as team captain of the swim team her senior year, made it to sectionals each year and made it to districts three years. She was a member of the Girls' Tennis Team, earning three varsity letters and was a two-time CVC Team Champion and a two-time individual First Team All CVC Champion.
Outside of school, Francie is a lifeguard and swim lesson instructor at the Chagrin Valley Recreation Center. She is also classically trained in piano for twelve years and earned two National Guild Awards. She also began taking guitar lessons her junior year. Her accelerated classes include nine Advanced Placement classes, two College Credit Plus classes and one honors class.
After high school, Francie plans to attend Miami University with a major in computer science and a minor in entrepreneurship.
Excel TECC student wins LEAF scholarship
Chagrin Falls High School junior Rachel Herman earned a $500 scholarship through her Excel TECC CADD Engineering Technology junior team through the Lake/Geauga Educational Assistance Fund (LEAF) Umbrella Project. The team, which included Mayfield Heights junior Adara Tsirlin, won the scholarship for earning a near perfect score for their umbrella fixture design.
The Umbrella Project featured umbrellas decorated by area high school students that were suspended from the rafters at Great Lakes Mall from mid-February through mid-April and were recently auctioned to benefit LEAF programs. The fixtures used to display the umbrellas were designed by students from Excel TECC and the Lakeshore Compact Engineering programs. These students designed the fixtures through 3D-printing and using CNC routers (computer-controlled cutting machines). The fixture designs emphasized a focus upon safety, durability and intact preservation of the umbrellas through installation.
Scholarships were awarded, not only for the most unique umbrella designs, but also for the most outstanding fixture designs. Individual engineering students and student teams competed for two $500 scholarships. A panel of engineers reviewed the designs, a set of annotated engineering drawings and responses to various questions from all students who participated.
Chagrin Falls High School Excel TECC Students Recognized with Awards
Excel TECC recognized 13 Chagrin Falls High School students at its end of the year recognition program.
Excel TECC is a career technical consortium serving the ten school districts of Aurora, Beachwood, Chagrin Falls, Mayfield, Orange, Richmond Heights, Solon, South Euclid-Lyndhurst, West Geauga, and Willoughby-Eastlake offering over 25 unique programs. Excel TECC's primary objective is to prepare students to enter a four-year college, a two-year technical school or the career of their choosing.
Congratulations to each of these students for their accomplishments.
In the Arts and Communication career field: Juniors Ruby Brandon, Anna Buescher, Emma Ferguson, Riley Firehammer, Ella Murray along with senior Alizee Duloisy were recognized under the Performing Arts Academy as National Technical Honor Society Inductees. Ruby also received the Excel TECC Departmental Junior Award.
In the Education & Training career field: Junior Kaitlyn Castelluccio was recognized under the Teacher Education and Children's Health program (TEACH) as a National Technical Honor Society Inductee.
In the Human Services/Public Safety career field: Junior Adriana Fant was recognized under the Cosmetology program as a National Technical Honor Society Inductee and for an Excel TECC Departmental Junior Award.
In the Engineering/Transportation career field: Senior Matt Marting was recognized under the CADD Engineering program for winning 11th place in the Team-Student Model Home Design Contest and for winning the gold in the SkillsUSA Regional Conference in Extemporaneous Speaking and becoming a state-qualifier.
In the Health Sciences career field: Juniors Kathryn McCuaig and Geneva McGinnis were recognized under the Medical Technologies and Practical Nursing programs, respectively, as National Technical Honor Society Inductees
In the Business & Administration/Hospitality career field: Junior Alexia Monteux Arraiza was recognized under the Culinary Arts program as a National Technical Honor Society Inductee.
In the Information Technology career field: Senior Alex Popovich was recognized under the Interactive Media program with the Excel TECC Departmental Senior Award and for his Team's winning bronze in the SkillsUSA State Championships for Digital Cinema Production.
Chagrin Falls Schools recognizes Difference Makers
Chagrin Falls Schools and its support organizations are pleased to announce the recipients of the 4th Difference Maker Award. The entire community was encouraged to nominate a student, teacher, staff or community member that positively influences our school or community.
The objective of the Difference Maker Award is to thank those that impact others in a positive manner in hopes of spreading their positive work and message. Each honoree was invited to an awards ceremony breakfast on May 20 recognizing them as a Difference Maker in the community.
"Difference Makers are individuals that work to improve our school and community daily through their selfless acts and hard work," said Superintendent Robert Hunt. "They don't seek recognition but deserve it due to their unwavering commitment to service above self. Congratulations, to all of our Chagrin Falls Difference Makers."
Student Recipients: Parker Broz, Bianca Fant, James Hamerstone, Avery Shinkawa and Caleb Zelch.
Teacher/Staff Recipients: Julie Albrecht, Kathleen Aranavage, Monica Asher, Emily Beal, Amy Belew, Jen Bencko, Justin Cannon, Shawn Carlson, Mike Daugherty, Michael Digeronimo, Kathleen Gill, Sandra Goodin, Lauren Jones, Allison Kaas, Martina Kehoe, Nancy Kevern, David Kimball, Jill Koval, Faith Kover, Nicole Lustig, Stephanie Malley, Vanessa Mattson, Mike Morgan, Ben Needham, Vicky Pelsozy, Kelly Purcell, Becky Quinn, Carol Ripley, Adrian Rus, Lisa Salyers, Jim Serluco, Heather Sweet, Todd Thombs, Dale Tschappat, Michael Wujnovich and Shelly Zdolshek.
Community Member Recipients: Officer Michael Baldwin, Maggie Beatty, Lisa Buescher, Jennifer Cimperman, Jack Daniels, Heather Demming, Anne Durette, Phil Durette, Myriam Egenter, Leah Eickhoff, Bob Fay, Laura Fricke, Molly Gebler, Gretchen Hamann, Greg Kanzinger, Carra Kathary, Officer Mike Kramer, Audrey Kristoff, Maggie Kwasny, Linda Levi, Nicole Martorello, Christine Mitton, Bob Ohlrich, Katie Pollock, Janelle Ranieri, John Tillotson and Carl Venezia.
Chagrin Falls Schools thanks the following sponsors of the 2019 Difference Maker Awards: Chagrin Falls Booster Club, Chagrin Falls Dads' Club, Chagrin Falls Educational Foundation, Chagrin Falls Historical Society, Chagrin Music Lovers, Chagrin Falls PTO, Chagrin Valley Chamber of Commerce, Safe Routes Chagrin and Tiger Prep.