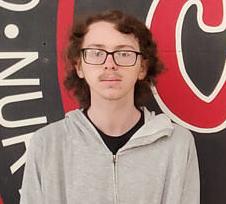 Seniors receive merit recognition
Chardon High School seniors Brendan Sarbach and Jeffery Fletcher, qualified as National Merit Scholarship semifinalists for the 2020-2021 school year. Looking ahead to their post-graduation plans, Brendan intends to pursue the study of English and has narrowed his college search to Harvard University, University of Michigan and the Ohio State University, while Jeffery is interested in the fields of chemistry and medicine and is currently deciding among Duke University, Stanford University, OSU and UNC.
The district also congratulated seniors Noah Munoz, Zoe Shive and Jacob Stephans on their 2020-2021 recognition as National Merit commended students.
Student BOE liaisons selected
Chardon High School seniors Mary McCauley and Cade McDevitt have been selected as the 2020-2021 student liaisons to the Chardon Board of Education. Both students are National Honor Society inductees and hold leadership positions at CHS. Mary is a senior mentor, a member of Free Harmony and the varsity girls volleyball team captain. Cade's CHS activities include varsity football team captain and varsity baseball team captain, as well as a lead senior mentor.
District conducting Child Find
As required by the Individuals with Disabilities Education ACT (IDEIA 2004), the Chardon Local School District continues to conduct the 2020-2021 Child Find campaign to locate, identify and evaluate all children with disabilities from birth through age 21 residing in the school district. This includes Chardon children with disabilities who are homeless, wards of the state or attending non-public schools, regardless of the severity of the disability.
Upon being notified of a child who has a disability or is suspected of having a disability, Chardon schools personnel will collaborate with the child's parent(s) or guardian(s) regarding a referral for assistance. The referral and all additional information provided will be used to determine the appropriate intervention procedures to follow.
Interventions addressing areas of concern will be implemented and monitored by the parents/guardians and school team. Evaluations will be conducted when additional information is necessary to determine eligibility for special education.
Anyone who knows of either a child with a disability or a child suspected of having a disability who is not currently receiving appropriate educational and related services, contact the district's director of student services, Linda Elegante, at 440-286-0525.