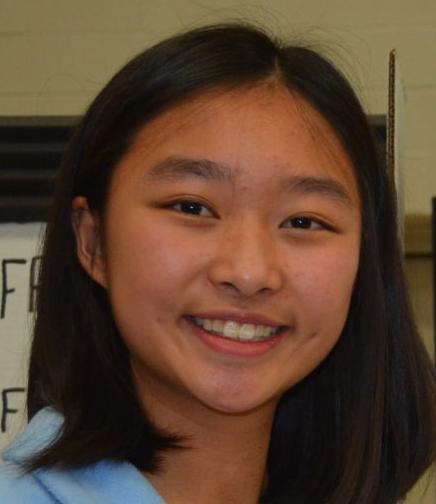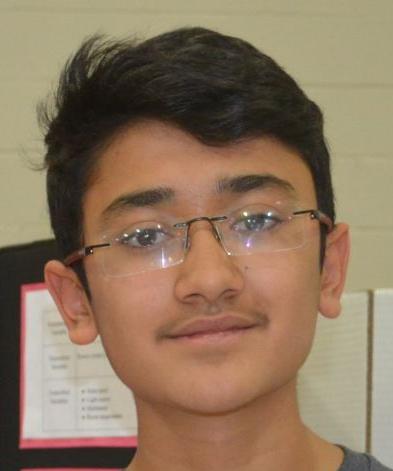 For eighth-graders Piyush Chitnis and Joy Fan, the Solon Middle School science fair offered an opportunity to explore topics they found relevant and exciting.
Both of their topics related to 21st-century global challenges. Piyush studied ways to produce the most power from solar panels. Joy looked at the effects of heat on single-use plastic water bottles.
"Fossil fuels are running out," Piyush commented at the science fair about his physics study of the effect of different angles of incidence on solar power. "Solar panels are one of the best alternative energy sources, along with wind and water."
From his research, Piyush wrote in his report, "Scientists have discovered that solar energy is one of the best types of renewable energy…Knowing this and the fact that solar energy is the most abundant energy source on earth makes the solar panel a key in the Earth's future."
Piyush aimed to find the angle which produces the most power or wattage. His hypothesis was: "If the solar panel and light source are at a 90 degree angle in relation to each other, then the solar panel will produce the most power."
"This experiment was important because in the real world, people want as much energy as possible from their solar panels," Piyush wrote in his abstract. "However, since the sun is shifting its position constantly throughout the day, it is crucial that we understand which angle is best."
Like Piyush, Joy wanted to study a global challenge. While recognizing the effect of plastic bottles on the environment, she focused on the health issue. "My parents always told me not to drink water bottles in a hot car," Joy said. "I wanted to know the reason why." She discovered the reason firsthand in her earth/environmental science project "How Does Temperature Affect the Number of Microplastic Particles in Plastic Water Bottles?"
Piyush and Joy were among 141 students who participated in this year's science fair. The students presented their science projects to 50 volunteer judges from local schools, colleges and corporations. Once the judging was completed, they spoke about their research with parents and classmates.
Winners were announced just before winter break. The overall winner was Sairam Pantham, whose project was "How Does the Saltwater Volume in a Battery Affect the Current Induced in a Second Coil of Wire?"
First-place winners included Mrunmayi Warade in biology; Ariel Hsieh in chemistry; Riya Verma in earth and environmental science; Max Zuckerman in engineering; Jordan Klein in health and behavioral science; and Jane Radis in physics.
Participation in the science fair is required for eighth-graders taking advanced science and is offered as an enrichment opportunity for other eighth-graders, said science teacher Allison Gale. "The science fair offers a good experience for students to use the scientific method, learn presentation skills and present their findings to the public. The science fair combines science and real-life skills. The students take pride in it."
Science fair topics generally fall into categories that include biology, chemistry, earth science, environmental science, behavioral science, physics and engineering. This year's science fair showcased a wide variety of topics. Key questions ranged from "What material makes the best insulator?" to "Which plastic wrap is most effective at preventing oxidation?"
In addition to researching the science of how solar panels produce electricity, Piyush conducted several experiments. Using a multi-meter to measure the volts and amps which produce power, he tested six different angles of light on a solar panel. "My experiment proved that the 90-degree angle produces the most power because the most light is hitting the surface," he concluded. "Since the sun is constantly shifting positions…it is crucial that scientists figure out a way to shift the position of the solar panel."
Joy's study focused on the quantity of microplastics that have leached into the water in single-use water bottles. Microplastics, when consumed, are prone to absorbing chemicals such as lead and dioxins, she said. Using a microscope, she counted the number of microplastic fibers left on filters from 25 single-use water bottles that were not heated and an equal number of bottles that had been heated in a 200-degree Fahrenheit oven.
"After completing my experiment, I accept my hypothesis that if I heat plastic water bottles, then the amounts of microplastic particles in the water will increase. If you were to take a bottle from your house and drink it right away, it's only about 45 microplastics. Leave it in your car when you go to work and you will have a bottle with up to 300 some microplastics."