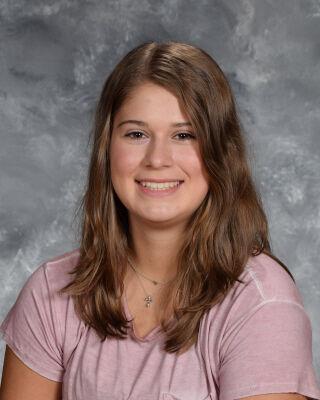 Laurel student recognized
Laurel Senior Aubrey Schrimsher of Chagrin Falls received recognition as a National Merit Semifinalist in the 2021 Scholarship Program.
Over 1.5 million juniors from 21,000 high schools entered the 2021 National Merit Scholarship Program by taking the 2019 Preliminary SAT/National Merit Scholarship Qualifying Test, which served as an initial screen of program entrants. The nationwide pool of semifinalists, representing less than 1 percent of U.S. high school seniors, includes the highest-scoring entrants in each state. Merit Scholar designees are selected on the basis of their skills, accomplishments and potential for success in rigorous college studies, without regard to gender, race, ethnic origin or religious preference.
Academy recognizes US students
The Ohio Academy of Science has recognized seven University School students as 2020 Melvin Scholars. They were selected on the basis of their original science research presentations at the academy's annual meeting and through a review process.
University School Melvin Scholars are junior Cyril Andrews of Solon, senior Jonathan Jang of Pepper Pike, senior Sohum Kapadia of Orange, senior Toussaint Miller of Cleveland, junior Nathan Mu of Solon, senior Sunay Rastogi of Highland Heights and senior Ian Swain of Solon.
Each year, the Ohio Academy of Science selects the top pre-college students who presented at its annual meeting, this year held virtually. These students are among the 24 Melvin Scholars named in the state and will have the opportunity to represent Ohio at the national conference of the American Junior Academy of Science. They will also have the chance to interact with other Melvin Scholars from across the country as well as scientific professionals from around the world.
NDCL celebrates opening Mass
Thanks to the space provided by Lion Stadium and live-streaming technology, the entire Notre Dame-Cathedral Latin community continued their annual tradition by celebrating their opening Mass for the 2020-2021 school year on Sept. 8, the Feast of the Nativity of the Blessed Virgin Mary. Chaplain Father Jim Caddy led the prayer.
Director of Student Leadership Ben Lozar relied on his experience as a geometry teacher to create a seating-grid formation on the field that physically distanced 675 in-person students and all faculty and staff members. Assistant Admissions Director Quinn Malone managed the live video feed of the Mass for their 35 live-streaming learners and any other persons who wished to join the ceremony.
Following the Mass, senior Kelly McGraw addressed the student body. Kelly is this year's Student Activity Board President.
"We have to remember to make as many memories as possible and enjoy the small things that happen every day because we are only in high school once," Kelly told the students.
"I am so glad we are all able to be here to celebrate Mass, and I have high hopes for what this school year will bring," she continued. "It is important to remember the power of our community against the challenges we are forced to face and to all work together to roar with the spirit and make this year the best it can possibly be."
Robotics team holds virtual kick-off
On Saturday morning, Notre Dame-Cathedral Latin School's robotics team officially began the 2020-2021 season with their first-ever virtual kick-off event with robotics teams throughout Ohio.
According to science teacher and robotics head coach, Zack Geizer, the program included virtual roundtable discussions and Zoom workshops presented by several teams.
FIRST Tech Challenge (FTC) helps students think like engineers. Teams design, build and program robots to compete in an alliance format against other teams. The first round of competitions will be hosted remotely as participating schools adjust to COVID-19 health and safety protocols.
Last spring the NDCL robotics team qualified for the state tournament, but it had to be canceled because of statewide stay-at-home orders to combat COVID-19.
Gilmour students named semifinalists
Three Gilmour Academy seniors, Eric Brandt of Willoughby Hills, Mollie Edmondson of Stow and Joseph Rottinghaus of Willoughby Hills, received notice on Sept. 9 that they have been named National Merit Semifinalists.
More than 1.5 million juniors took the qualifying test, the PSAT, last fall, and of those 1.5 million students, only 16,000 students nationally earned the semifinalist distinction. Semifinalists can advance to the finalist level of the competition after submitting a detailed scholarship application. The National Merit Scholarship Corporation states that the student must "have an outstanding academic record throughout high school, be endorsed and recommended by a high school official, and write an essay." Approximately 15,000 students are expected to be named finalists. Of those finalists, 7,600 will earn the Merit Scholar designation and National Merit Scholarships totaling more than $30 million.
Seniors explore integrity on river
About half of the Notre Dame-Cathedral Latin School senior class connected with their religion and each other during two kayaking retreats down the Cuyahoga River last week.
The retreats began with the celebration of the Eucharist in the Annunciation Chapel with Bishop Emeritus Roger Gries on Wednesday and Father David Stavarz of Saint Gabriel Church on Friday.
Before and after kayaking trips down the river, students reflected upon and discussed the role of NDCL's core value of integrity in their personal, social and spiritual journeys. The day ended with a surprise stop at McDonald's for ice cream cones.