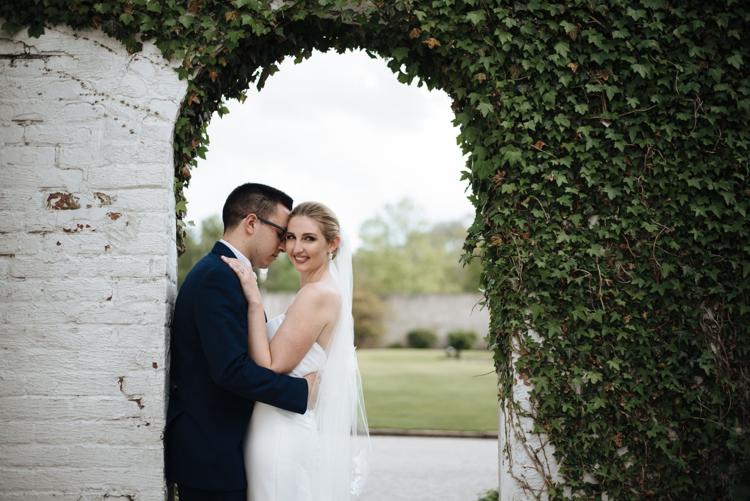 Kathryn Schall Kajfez and Benjamin Therman Britt III of Abington, Pennsylvania were married on May 18, 2019 at the Church of Saint Mary of the Assumption in Cleveland. The wedding reception was at The Country Club in Pepper Pike. Rev. John M. Kumse officiated the wedding.
The bride is the daughter of Susan and Matthew Kajfez of Chagrin Falls. She is a 2012 graduate of Laurel School and received her Bachelor of Arts, cum laude, from the College of Charleston in 2016. She is an account executive at Tierney Communications in Philadelphia. She was given in marriage by her father.
The groom is the son of Denise and Stephen Britt of Plymouth Meeting, Pennsylvania. He is a 2012 graduate of Plymouth Whitemarsh High School and received his Bachelor of Arts in political science in 2016 from the College of Charleston. He is a logistics coordinator for the East Coast Warehouse and Distribution Corp. in New Jersey and a 1st Lt. of the New Jersey Army National Guard.
The maid of honor was Megan McCue, a Laurel School classmate. Bridesmaids included sorority sisters Ana Brickowski and Jenna Gunsolley, cousins Liesl Macke and Claire Nikrant and Laurel School classmate Chelsea Majoros.
The best man was Gregory Goldner. Groomsmen were Benjamin Goldner, Herman Goldner, Thomas Highland, Matthew Kajfez, brother of the bride, and Parker Litts.
The couple traveled to Aruba for their honeymoon and they currently reside in Abington, Pennsylvania.