Students become peer educators
During a commissioning ceremony last week, 111 Notre Dame-Cathedral Latin seniors celebrated their certification as peer educators by the National Association of Student Affairs Administrators in Higher Education (NASPA).
NASPA's college-level Certified Peer Educator (CPE) Program provides students with foundational-level skills to empower them as stronger leaders, better role models, more effective advocates and more productive team members. Ordinarily, NASPA only works with college students, but last year NDCL health aide and wellness coordinator Pete DeMichele persuaded the organization to include the students in the nationally recognized program.
To date, 202 NDCL students have earned CPE certification, which is recognized by hundreds of colleges and universities nationwide.
Fifth-graders investigate tools
Notre Dame Elementary School fifth-graders kicked off September with investigating scientific tools. Students explored various scientific tools and practiced using them to collect data in activities such as measuring distance in a marble rolling activity and recording the time it takes sugar cubes to melt in various water temperatures.
New student council elected
On Sept. 19, Notre Dame Elementary School celebrated Mass and welcomed their new student council members. The students had to complete an application and be selected for interviews by the junior high team in order to be elected. The council strives to build community in the school, create a fun atmosphere, provide outreach to those in need and conduct service.
Elected students include: Michaela Platt, Nolan Petzing, Mackenzie Niksa, Sydney Atkinson, Andrea Ivanko, Kate Williams, Gianna Worley, Sophia Nekic, Lucas Dolan, Margo Brugger, Hailey Karban (co-president), Lara Vatandoust (co-president), Brendan McGraw and Tony Petrie.
Preschoolers learn the letter S
Notre Dame Elementary School preschool students participated in letter S activities. They learned about shapes, identifying the letter S, scarecrows and seasons.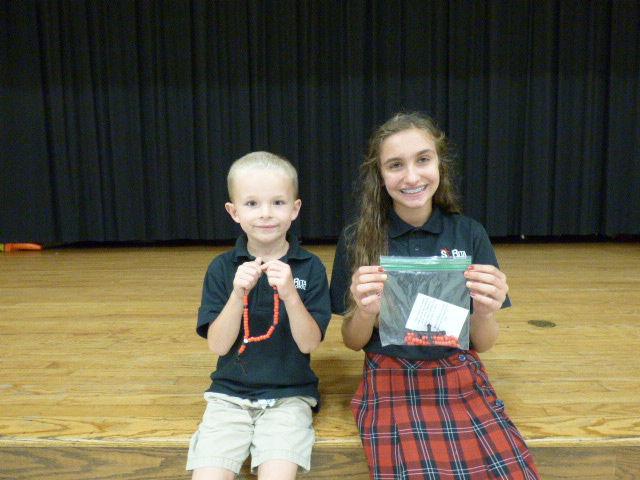 Students share their spirit
Notre Dame Elementary School students took part in the Fall Pep Rally at Notre Dame Cathedral Latin on Sept. 20. After walking down to NDCL, students took part in scooter relays, hula hoop activities and cheering on the Lions.
St. Mary School of Chardon will hold their sixth Annual Handbag Bash. With the purchase of a ticket, attendees get dinner and drinks (alcoholic and nonalcoholic) and multiple chances to win designer handbags. There will be a Chinese auction, a 50-50 raffle and a new mystery item raffle. Only 225 tickets will be sold, and those who enter the raffles do not need to be present to win. Attendees must be 21 years or older. Visit https://bit.ly/2mmdLOI or the school's Facebook for more information on how to order tickets.