Scouts fundraise for park bench
Kenston Girl Scout Troop 71117 is hosting a taco kit fundraiser through Moe's Southwest Grill to support their Bronze Award project. The scouts are fundraising for a new park bench to be installed at Kari's Play World at River Road Park in Bainbridge. Scouts are fifth-graders Reagan Carnes, Kendall Robertson, Audrey Kucharson, Riley Eastman, Alaina Murphy, Lainey Bockmuller, Addison Lowe, Katie Spellacy, Keira Walz and Norah Jahn of Kenston Intermediate School.
Taco kits are $35 and serve four to six, and 25 percent of proceeds will support the troop's initiative. All orders must be placed by April 12 at 8 p.m. No orders for the fundraiser can be placed on site, and pre-order spots are limited. Taco kit pick-up will be April 13 from 5-5:30 p.m. at the Gardiner Center, 9421 Bainbridge Road in Bainbridge. Order online at form.jotform.com/210603957676160.
Register kids for Safety Town
Orange Early Childhood, located at Pepper Pike Learning Center, 32000 Chagrin Blvd., has kicked off registration for summer Safety Town to be held Aug. 2-6. A morning session will be offered from 9 a.m. to noon for children entering first grade who haven't had the opportunity to attend Safety Town and an afternoon session from 1-4 p.m. for children entering kindergarten. Cost is $74 for residents and $89 for non-residents.
Safety Town is a nationally recognized program that teaches fire safety, water safety, gun safety, pedestrian safety, bike safety, bus safety and poison safety. For an up-close experience, children will also visit the Pepper Pike Fire and Police stations and the Orange High School Outdoor Pool. In addition, children will practice riding a school bus and learn more about car safety by driving miniature cars in the mini Safety Town. Location visits, bus riding and swimming may be canceled and supplemented with other activities pending COVID-19 restrictions in place this summer.
Instructors for the program include first responders from the Orange community, Certified PK-3 teachers and Orange High School volunteers. Space is limited, so register online at orangerec.ce.eleyo.com or by calling 216-831-4909.
Robotics team earns spirit award
Despite coming up just a few points shy to qualify for this year's state competition, Notre Dame-Cathedral Latin School's robotics team is using the off-season for an even stronger performance next year.
The team's enthusiasm earned the Lions the Team Spirit Award for the second consecutive year in the Wright Flyer Qualifier Event Feb. 19-27. Like all other matches this year, the event was virtual because of the COVID-19 pandemic.
The team's plans include connecting with local grade schools to attract prospective students, linking up with other teams to learn from the robots they built during this season and improving the NDCL robot by developing autonomous image recognition.
BCP looks forward to spring
Bainbridge Christian Preschool at Lord of life is looking forward to spring with new investments into their program this year. The preschool has welcomed students in eight different classrooms. With the challenges of COVID-19 in mind, the preschool states it maintains a safe environment for its students and engages learners with new opportunities every day.
In addition to learning, Bainbridge Christian Preschool families have supported area nonprofits, including Geauga Faith Mission, Rescue Village and Laura's home. The school is also currently registering for the 2021-2022 school year and giving tours Monday through Friday in the afternoon. BCP's annual Art Show will be April 29 by registration only.
For more information on school registration and tour or the art show, contact Preschool Director Pam Reisinger at preschool@loloh.org or 440-543-2221. Bainbridge Christian Preschool, a Lord of Life Ministry, is located at 17989 Chillicothe Road in Bainbridge.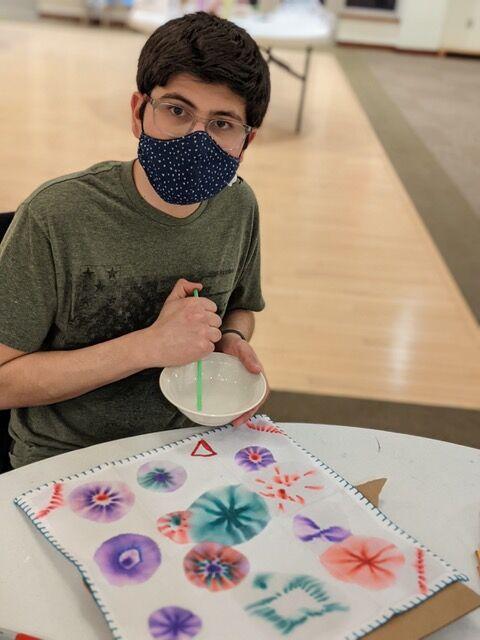 Temple uses 'Better Together' grant
Temple Emanu El's religious school received a $5,000 grant, called "Better Together in a Box," from the Legacy Heritage Foundation focused on new programming for its high school students and senior temple members. The new intergenerational programming for the 11th and 12th grades began in November 2020 and runs through May 2021. An all-inclusive curricular guide was provided for safe virtual programming between teens and the elderly with all health and safety protocols being followed.
In November and December, the teens learned about issues affecting the elderly. From January through May, the students are paired with senior members of the congregation to participate together. Because many of the temple's senior citizens are not comfortable with online Zoom technology, programming includes package deliveries, letter writing and phone calls.
About once a month, the teens decorate the boxes and fill them with items and food related to a new theme: Shabbat (sabbath) celebration; health and wellness; food and culture; and crafts and games. For the first box, they created challah covers and included a fresh challah, battery-operated candles, grape juice and other treats.
"Our teens are now building relationships with the more mature generation of Temple Emanu El in the hopes that these connections might be on-going," said Youth and Family Program Director Beth Mann.
NDES learns St. Patrick legend
Notre Dame Elementary School's Katherine Biro taught her kindergarten students the story behind the legend of St. Patrick last week and that the shamrock is a symbol of the Holy Trinity. They practiced the sign of the cross with shamrocks and concluded the lesson by creating mosaic shamrocks.
4-H supports hunger task force
The Geauga Hunger Task Force extended its appreciation to the Greener Fields 4-H Club and Augustine Kellis and family for their efforts in ensuring no county resident goes hungry.
Back in 2015, Dan Takacs, co-chair of the 4-H Food Drive with Ben Obringer, reached out to Dr. Kellis for a donation for their fundraiser to help the task force. Dr. Kellis then approached Mr. Takacs about kickstarting a food drive and opening it to all 4-H clubs, stating he would match whatever the 4-H clubs raised. From then on, the 4-H club and Kellis family have supported the county task force.
This year, with the added challenge of COVID-19, 4-H clubs and Dr. Kellis raised more than $38,000 for the Geauga Hunger Task Force. Since 2015, when Greener Fields 4-H Club and the Kellis family teamed up, they have raised a total of $167,733, and they are just starting to kick off their 2021 food drive.
When Dan Takacs graduated and had to leave the club, leadership passed on to Mary O'Neill. After Mary graduated, leadership passed on to her sister, Jayme.