Villa Angela-St. Joseph at Chagrin Falls
Chagrin Falls is fixing to have its first 3-0 start since 2012, when the Tigers host the Villa Angela-St. Joseph Vikings, a fellow Division IV contender, at 7 p.m. Friday at C.S. Harris Stadium.
The Chagrin gridders (2-0) are coming off a 28-7 victory against Lakeside in a game dominated by their defense. Tiger 5-foot-10 senior defensive back Will Tropp had a 79-yard pick-six and came up with another interception later in the game that put the kibosh on a 65-yard Lakeside kickoff return.
Chagrin allowed nine first downs on 53 snaps by Lakeside.
Offensively, the Tigers took advantage of their ground game with 154 yards rushing, including 77 yards by senior back Cam O'Connor and 68 yards by sophomore back Donny Hardy. But they were still missing senior playmaker Xavier Perez, who had a minor injury in week one.
VASJ (0-2), under second-year head coach and former NFL quarterback Elvis Grbac, who owns a 6-6 record at the helm, is coming off a 28-0 loss against Lake Catholic (1-1) in a game the Vikings surrendered 21 points in the second quarter.
Offensively, VASJ had 15 first downs with 6-foot-4 senior quarterback Kevin Eiseman completing 11 of 23 passes for 162 yards with an interception, including six tosses to 6-foot-3 senior receiver Jordan Dean for 121 yards. Meanwhile, Viking 185-pound senior running back LaVelle Smith had 14 carries for 48 yards behind a veteran offensive line.
Defensively, VASJ surrendered 286 yards rushing and 24 first downs to Lake Catholic, despite the Vikings returning nine starters on that side of the pigskin.
Chagrin Falls and VASJ are new opponents.
TONY'S TAKE: Chagrin wins, 27-20.
Orange will make its season debut when the Lion gridders hit the road to take on the Division VII Independence Blue Devils (2-0) at 7 p.m. Friday at Stan Skoczen Stadium.
The Lions are returning from pause on the heels of a 3-7 campaign, after back-to-back playoff berths in 2017 and 2018, under 12th-year head coach Adam Bechlem, who owns a 55-57 record at the helm.
Orange's offense has a lot of promise with five returning starters, including 5-foot-11 senior quarterback Zak Basharat, who tossed 889 yards last season. At running back, Greg Beard is technically a new starter, but he has the speed and the varsity reps of a veteran.
In the trenches, the Lions have four guys with starting experience but not a lot of depth.
Defensively, Orange is transitioning to a five-three front with plenty of new faces on all three units and a lot of question marks to be answered under the lights.
Independence, under sixth-year head coach Rick Adams, who owns a 32-21 record at the helm, is coming off a 36-6 victory against Middlefield Cardinal in a game the Blue Devils went off for three touchdown and a 41-yard field goal by junior Casey McGhee in the second quarter.
Independence 175-pound sophomore running back Rory Corrigan was the headliner of the night, scoring a 4-yard touchdown run in the first quarter, throwing a 55-yard touchdown pass in the second quarter and collecting a 55-yard pick-six in the third quarter.
Blue Devil 6-foot-2 junior Kyle Zygmunt, meanwhile, had a 53-yard touchdown run and delivered an 85-yard touchdown pass to 5-foot-11 senior Eric Mitrisin.
Defensively, Independence has surrendered just one touchdown in two weeks of football, with a 35-0 skunking against Division VII playoff perennial Cuyahoga Heights to open the season.
Orange and Independence are new opponents.
TONY'S TAKE: Independence wins, 31-21.
West Geauga's towers of powers will collide with Geneva's wrecking-ball back in a Chagrin Valley Conference showdown at 7 p.m. Friday at Howell Field in Chester Township.
The host Wolverines (2-0) will deploy 6-foot-4, 250-pound junior linebacker Luke Sadler and 6-foot-2, 205-pound senior linebacker Julian Cicchella to combat Geneva's (2-0) 6-foot-3, 250-pound fullback Charlie Taylor, who rushed for 100 yards in the Eagles' 56-25 victory against Ashtabula Edgewood last week.
Geneva, under sixth-year head coach Chip Sorber, who owns a 22-29 record at the helm, is a four-headed nightmare with its offensive backfield. In addition to Taylor, 6-foot-5, 215-pound senior quarterback Ben Scibona rushed for 130 yards last week, while 170-pound juniors Dylan Hamilton, 60 yards, and Brady Peet, 50 yards, added to the Eagles' 340 yards by ground.
West Geauga, meanwhile, is coming off a 24-7 road victory against Conneaut in a game 175-pound senior running back Trae Zimmermann had 27 carries for 119 yards with two touchdowns, while 5-foot-9 junior quarterback Danny Stewart was 10-of-14 passing for 139 yards.
Defensively, the Wolverines didn't surrender a touchdown – Conneaut scored on a pix-six – and held the Spartans to 100 yards of offense.
In 2019, Geneva defeated West Geauga, 42-14.
TONY'S TAKE: Geneva wins, 28-21.
Lutheran East at University School
After a pair of rough road outings, University School will return home to host the Division V Lutheran East Falcons at 5 p.m. Friday at Scovil Field in Hunting Valley.
The host Prepper gridders (0-2) are coming off a 41-14 loss against Eastlake North in a game splattered with self-inflicted wounds on both sides of the pigskin.
Defensively, US surrendered touchdown runs of 77, 81 and 57 yards in the first half. Yet the University boys were still in the game, 27-14, at intermission, thanks to 27- and 10-yard touchdown passes from senior quarterback Solomon Perez to sophomore receiver Brian Kellon.
But in the second half, the Preppers' offense surrendered 30- and 35-yard interception returns for touchdowns. University's 18 first downs, compared to North's nine, didn't hold much weight.
Lutheran East (0-2), under first-year head coach Tyler Eden, who was a linebacker coach at his alma mater University School last season, is coming off a 21-12 road loss against Brush in a game that all the scoring came in the first half.
Lutheran East 6-foot-2 senior quarterback Osei Mattocks completed 12 of 16 passes for 126 yards and two touchdowns, including five tosses to senior receiver BJ Busbee for 74 yards and five tosses to freshman receiver Terrence Williams for 39 yards.
Lutheran East also lost its week-one matchup against Gilmour Academy, 39-20.
University and Lutheran East are new opponents this year,
TONY'S TAKE: University wins, 35-21.
Trinity at Gilmour Academy
Gilmour Academy will focus on putting together not just a good first half but a solid second half too, when the Lancers (1-1) host Division VI Garfield Heights Trinity (1-1) at 5 p.m. Friday at Weber Stadium in Gates Mills.
The Gilmour gridders are coming off a 28-16 loss against Warrensville Heights in a game they led, 16-6, midway through the second quarter thanks to touchdown runs by 6-foot-2 junior quarterback Thomas Richardson and 180-pound sophomore running back Santino Harper.
But fourth downs didn't particularly go the Lancers' way, as Warrensville senior quarterback Nate Bledsoe scored on a fourth-and-five scramble, converted a fourth-and-16 pass that led to a touchdown and a fourth-and-two pass for another score.
Offensively, Gilmour was unable to convert a key fourth-and-short opportunity at midfield late in the third quarter, and the Lancers' passing game struggled with just 23 yards.
Trinity, under 10th-year head coach Jeff McSweeney, is coming off a 41-7 loss against Wickliffe in a game that was tied, 7-7, at the quarter mark, before Wickliffe pulled away with three touchdowns in the second quarter.
Offensively, Trinity 6-foot-1 junior quarterback Ian Anderson was 13-of-21 passing for 221 yards and four interceptions, with six completions going to 5-foot-10 senior receiver Jack Maloney for 86 yards. Meanwhile, Trinity 160-pound senior running back Brown had 20 carries for 36 yards.
Defensively, Trinity surrendered 394 yards – all rushing – without much of an answer for Wickliffe 6-foot-3, 220-pound senior running back Chase Fortkamp, who had 12 carries for 143 yards and three touchdowns.
Gilmour and Trinity last met in 2018, when the Lancers were the 60-0 victors.
TONY'S TAKE: Gilmour wins, 35-14.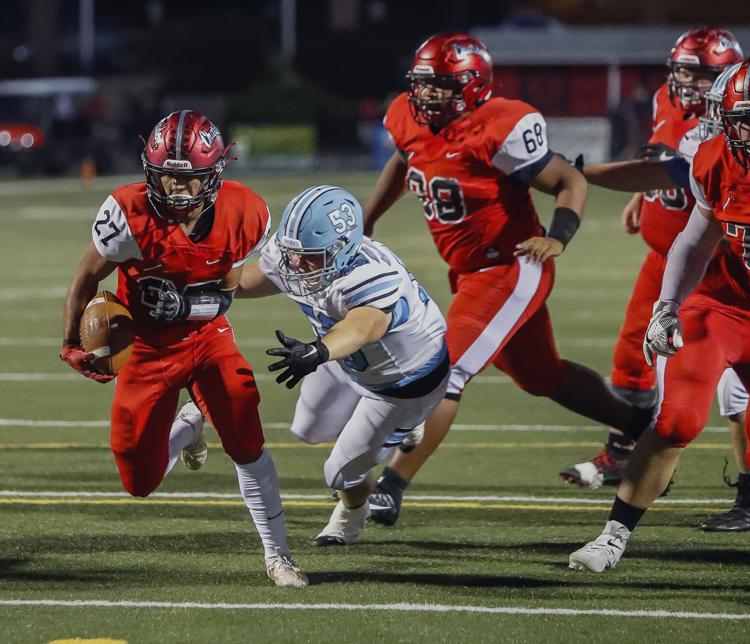 Chardon has had Kenston's number the past two years in a pair of down-to-the-wire battles, and another victory remains in the Hilltoppers' favor when they hit the road for week-three action at 7 p.m. Friday in Bainbridge Township.
The visiting Chardon gridders (2-0) are polished, while the Bombers (1-0) are young and determined, but logical forecasts are out the door in this Western Reserve Conference clash of Division III Geauga County foes – not too many anticipated Chardon taking down Kenston, 27-24, during the Bombers' state-title campaign in 2018.
Chardon, under 10th-year head coach Mitch Hewitt, who owns a 72-31 record at the helm, began its 2020 campaign with wins against Eastlake North, 42-7, and Willoughby South, 50-0, with the Hilltoppers' defense suffocating South to negative-63 yards last week.
Chardon's defense has little-to-no weaknesses, but, if opposing offenses can somehow provide their quarterback some protection, the Hilltoppers' secondary, which had three interceptions last week, is susceptible to pass interference calls.
Offensively, Chardon does what Chardon does – plays chess against checkerboard defenses through its deceptive wing-T ground attack. And once the Hilltoppers lull defenders to sleep running the ball, senior quarterback Drew Fetchik makes them pay in the air. He was five-of-seven passing for 62 yards with two touchdowns last week.
Kenston, under ninth-year head coach Jeff Grubich, who has a 58-33 record at the helm, is coming off a 21-14 victory against Madison (0-2) in a game the Bombers showed balance from 205-pound senior running back Stanley Sell, 29 carries for 189 yards, and 5-foot-11 sophomore quarterback Nikko Georgiou, nine-of-15 passing for 107 yards.
With young bucks all over the gridiron, Kenston did suffer self-inflicted wounds, losing a pair of fumbles deep in Madison territory, but they also showed fight in overcoming adversity, specifically with freshman defensive back Sean Patrick coming up with two interceptions in his own end zone.
Overall, the Chardon-Kenston series is locked at 22-22-1, with the Hilltoppers winning last year's battle, 17-16.
TONY'S TAKE: Chardon wins, 31-21.