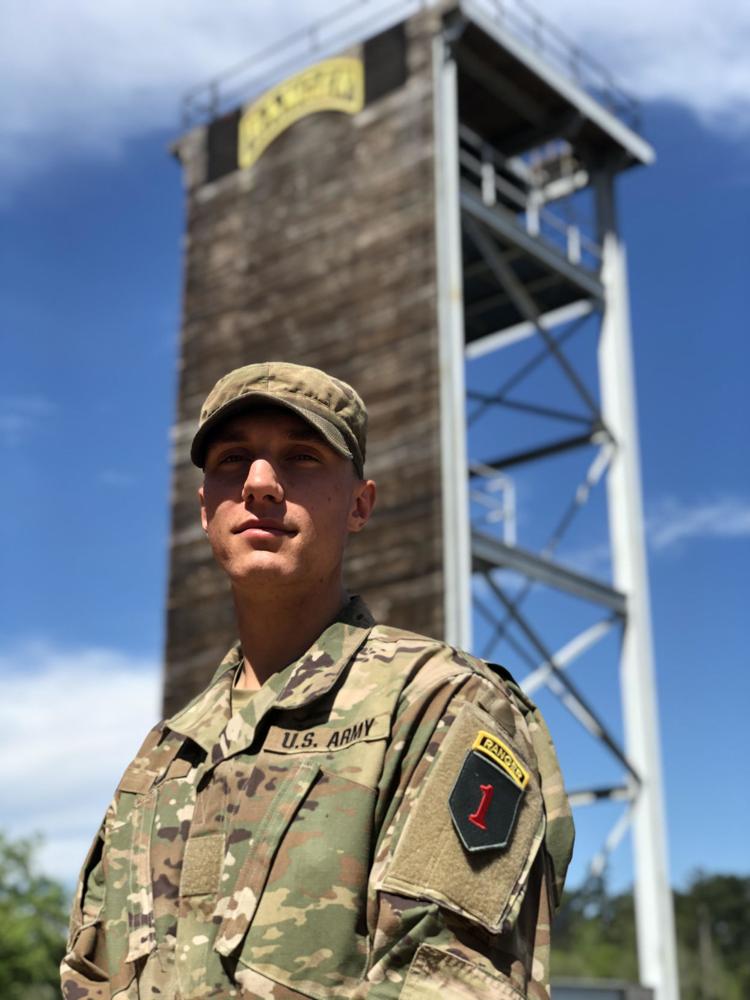 Trevor Hamm was grounded in confinement for a two-week holdover during U.S. Army Ranger School at the Fort Benning military base in Georgia, just a stone's throw from the Alabama state line.
All he could do was sit there in marking time, strategize and get ready to be recycled.
"I looked upon my lacrosse experiences as far as dealing with failure, dealing with frustration, keeping a cool and level head, and I was just ready to attack that phase again and give it another shot," Hamm said.
The 2015 Solon graduate, who stood out as an Under Armour all-American defenseman on the lacrosse field for the Comets, had just started the first phase of the 62-day small unit tactics and leadership course known as Ranger School, which develops functional skills directly related to units whose mission is to engage the enemy in close combat and direct fire battles.
Ranger School encompasses three phases: Benning, Mountain and Florida.
Founded in 1950, Ranger training begins with about 300 students in a class, but only around 42 percent end up graduating. Each student is allowed to fail a phase once and be recycled.
"The first phase is squad-level patrols, and then Mountain and Florida are platoon-level patrols," Hamm said. "And you get graded on different leadership looks. There's a saying in Ranger School that nobody earns their tab by themselves. It's really a team effort to get to graduation day."
But left in confinement during that two-week holdover in January, before he got recycled and restarted his 62-day course, Hamm had to dig deep within himself.
That team aspect of the Ranger training was engrained in Hamm as a lacrosse athlete, through the club level at Burning River Lacrosse, through four years of varsity at Solon High School and through four years playing the sport at Canisius College in Buffalo, New York, where he took part in ROTC and graduated with an entrepreneurship degree in May 2019.
At Solon, Hamm made the varsity squad his freshman season in 2012 under former head coach Hans Rydquist and then went on to be a three-year starter during the Comets' glory days under former head coach Don Gries.
The Solon laxers went 14-6 in 2013 and 16-2 in 2014, with a pair of epic playoff battles against Hudson and coach Dave Blue in the Ohio High School Lacrosse Association Division I Northeast Region finals, before lacrosse became sanctioned by the Ohio High School Athletic Association. The 2013 postseason resulted in a 17-16 loss against the Explorers.
Hamm was an all-region selection both of those campaigns. Entering his senior year, Hamm was one of six Comets already committed to continuing his lacrosse career in college.
"We learned a lot from each other, just about pushing each other and having a set goal and just throwing your entire being into it," Hamm said. "And then, as far as the coaching change goes, I definitely learned a lot about being adaptable and being adjustable on the fly.
"And when coach Gries came in, he certainly added a lot of structure that the program was looking for, and he taught us a lot of good lessons about leaving places better than we found it, and really he changed it from a lacrosse team to a lacrosse family that was all pulling the rope in the same direction."
But Hamm ended up sitting out 15 games with a high ankle sprain his senior season, when the Comets went 15-3 with a loss against Upper Arlington in the regional final.
With the sprain worse than expected, Hamm was in a boot and on crutches until he returned to the field in the regional championship against Upper Arlington, because nobody was going to keep him from playing in that game, he said.
"That was certainly a humbling experience and a bummer that I had to miss playing with my best friends that I still hang out with today," Hamm said. "But it was a humbling lesson and kind of a gut check, before I went to Canisius, how much I loved lacrosse, and it sure made me realize that you only play it for a limited time and you've got to take advantage of literally every second you step on the field."
Continuing lacrosse at Canisius College with fellow 2015 Solon graduate Mario Caito, Hamm appeared in one game as a freshman and five games as a sophomore. He then got two starts as a junior in 2018 and was named to the Metro Atlantic Athletic Conference all-academic team.
When he first arrived at Canisius, the Griffins coaching staff noticed Hamm's athleticism and transitioned him from a close defenseman to a short-stick defensive midfielder, he said.
"I had never played that in my entire life," Hamm said. "So, I was like, 'Oh, man. I'm drinking from a firehose now, learning a whole other position.' And I just tried to be the best player that I could and take my role on the team as being a guy who's going to get the team ready to win games by giving them the best practices that I could.
"So, my first three years I was certainly a practice player, and I tried to be a practice all-star – a practice all-American, if you will. And that gave me the opportunity my junior year to play a decent amount of games, which was nice."
As a senior, Hamm earned himself a starting spot in all 15 games – as both a close defenseman and long-stick midfielder – collecting 21 groundballs, causing six turnovers and again making the all-academic team in 2019.
No matter if players were scoring game-winning goals, picking up groundballs or just giving it their all at practice, Canisius head coach Mark Miyashita had all his players pulling in the same direction, Hamm said.
"And that's something I learned from Canisius is that, if you have a role, own that role like a Lamborghini and be the best you can at that role," he said. "And for me, those first three years, it was being that practice all-star. So, that's what my role was, and it gave me the incredible opportunity to start all 15 games my senior year."
Between his sophomore and junior years of college, Hamm decided to join the Reserve Officers' Training Corps (ROTC) at Canisius with his lacrosse buddy Michael Sanzone. They were two years late to the show, but they made it work.
That afforded Hamm the opportunity to attend Air Assault School and then commission as a second lieutenant in the Army and report to Infantry Basic Officer Leadership Course (IBOLC), before attending Airborne School and then, most recently, Army Ranger School.
"I knew I always wanted to join the military," Hamm said. "I figured I had two years of college under my belt, and I kind of figured out my schedule as far as playing lacrosse and just doing regular college work. So, I thought it'd be a great opportunity to join ROTC and be able to also commission as a second lieutenant. The workload was pretty insane, but it was really nice having another buddy doing it just alongside me."
In his first go during the Benning Phase of Ranger School in January, Hamm failed two patrols, which meant that he'd have to be recycled and start the phase over again when it classed up in two weeks.
As a result, he'd have an extended stay of 89 days to pursue his Ranger Tab, instead of 62 days.
"That was certainly humbling, but it taught me a lot about just keeping a level head, staying positive, and then, like I said, I had nothing but all my lacrosse experiences over the years to just really stick my nose to the grindstone and keep my heart in it and keep my head in it," Hamm said. "So, we had two weeks in holdover, and it's pretty much solidary confinement. You're with all the other recycles. You don't do anything, really."
Hamm said there were some negative attitudes in holdover, but that was something he tried to stay away from. Instead, he did a lot of soul searching just reassuring himself how badly he really wanted that Ranger Tab.
When he was reinserted into the Benning Phase, Hamm attacked it head on and got through it with no problem. He was ranked one of the highest in his squad during that second go-around, he said.
"I thought that recycling was one of the best things that could have happened to me, because, without a doubt, it was the gut-check I needed," Hamm said. "And it also reassured how badly I wanted that (Ranger) Tab."
But the platoon-level patrols in the mountains of northern Georgia and the swamps of Florida would present their own set of challenges
The Mountain Phase of Ranger School is conducted at the remote Camp Merrill near Dahlonega, Georgia, where students receive instruction on military mountaineering tasks, mobility training, as well as techniques for employing a platoon for continuous combat patrol operations in a mountainous environment.
During his 19 weeks of IBOLC, Hamm decided to take up marathon running to get in the best shape possible – he actually ended up winning his first race, the 2019 Miles for Maria Ultra Summer Spectacular Marathon in Kennesaw, Georgia, setting the 26.65-mile course record in 3:40.04. He then ran the "Southern Fried 50K" six days later.
But the Mountain Phase was its own beast.
"Mountains Phase was the real kicker," Hamm said. "That was the absolute gut check physically. We were carrying around 80 pounds on our backs in our rucksacks, and we were climbing up and down these mountains in Dahlonega, Georgia. And, in February, in the mountains in Georgia, it's ridiculously cold and rainy."
More or less in survival mode, Hamm and his Ranger School buddies were rationed two Meals Ready to Eat (MREs) a day and only got maybe one or two hours of sleep a night, he said.
The lack of nutrition and sleep paired with the strenuous terrain, injuries mounted.
"The Mountain Phase was definitely the most dangerous just because you're so tired and, in Ranger School, there's this thing call 'droning,' where pretty much the lights are on but nobody's home. You're just walking around," Hamm said. "And it's at the point where it gets pretty dangerous, when you're climbing up these steep mountains and it's raining. It's really easy to slip and break a leg.
"So, you've really got to lean on your Ranger buddies to keep you square. It was a direct replication of team sports. And I was so fortunate to have all of my past lacrosse experiences, because it kind of gave me that knowledge to fall back on; that we've all got to work as a team."
Hamm got through the Mountain Phase with no hiccups and moved onto the final Swamp Phase, conducted out of Camp James E. Rudder in the Florida panhandle, where students receive instruction on waterborne operations, small-boat movements and stream crossings in coastal and rainforest-like environments that test their ability to operate effectively under conditions of mental and physical stress.
That phase was 10 days with 24-hour rations of about 2,000 calories, but Ranger School students are burning plenty more during 3-to-5-mile movements with various waterborne operations.
"You're paddling through boats, you're moving through the swamps and mud, branches are hitting you in the face," Hamm said. "And because I had been in school for so long at that point, definitely all the sleep deprivation and nutrition deprivation started to catch up with me. I ended up losing about 20 pounds. I went into school at about 185 (pounds), and I left at about 165."
Back in the barracks last week at Camp Rudder, Hamm and his Ranger buddies fattened up on some honeybuns while they recovered from the physical effects of the course. They had their tab-pinning ceremony last Thursday in Florida, instead of a big graduation back on base at Fort Benning, because of the coronavirus travel ban. It was the first Ranger School graduation at Camp Rudder in more than three decades.
Earning his Ranger Tab, Hamm is in line to head to Fort Riley in Kansas, just west of Topeka and north of Wichita – once the travel ban is lifted – to join the First Infantry Division there, where he will be a platoon leader.
"Even though there was nobody there (at graduation), just having that tab pinned on my shoulder brought tears to my eyes," Hamm said. "It was a tangible representation of everything we had been through, something I had been chasing for so long, and it was something that came with a lot of responsibility.
"And one thing that everyone preaches is that you should be a tab bearer, not a tab wearer. So, now that I have that Ranger Tab on my uniform, I am held to a higher expectation."
If all goes well with the First Infantry Division at Fort Riley, Hamm said he hopes to attend the Ranger Assessment and Selection program when he becomes eligible.