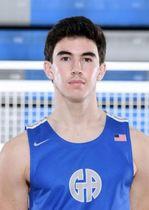 Gilmour Academy seniors Garrett Olsen and Ian Miller were far too successful on the basketball court as starters the past two seasons, not to mention Olsen's state-caliber baseball craft, to be any sort of bookworms.
At least that's the stereotype sometimes surrounding student-athletes who excel in their sports; that they spend all their time playing and no time studying.
But Olsen and Miller's intellectual sides became better known during a last-day-of-school ceremony for seniors on Saturday, when the two teammates were announced the top of their class. Olsen was named valedictorian, and Miller was named salutatorian.
"I was a little bit surprised," Olsen said. "I knew I was up there, but I didn't know I was that high."
Miller said, "I knew that I was top 10 most of the year, but I did not think I was going to end up that high. So, it was pretty awesome."
Olsen plans to continue his studies at the University of Notre Dame, possibly with a pre-med track or a business degree, while Miller will attend Ohio State University with the possibility of pursuing an accounting degree in the business school.
The two actually met on the basketball court as teammates in seventh grade, when Olsen was attending St. Rita's in Solon and Miller was at Solon Middle School.
"Ever since then we've just become best friends and gotten closer over the years," Olsen said. "So, at the beginning of this year, we've talked about (valedictorian and salutatorian) and how badly we wanted them to be us two, which was kind of funny when they announced it and it was us."
Olsen and Miller started the past two basketball seasons under head coach Dan DeCrane, with the Lancer cagers going 17-6 with a North Coast League title in 2019 and then a 16-9 mark this past season with a loss against state No. 2-ranked St. Vincent-St. Mary in the Division II district semifinals.
When DeCrane found out two of his players could graduate at the top of the 2020 class, he said a huge smile came across his face because Olsen and Miller create some of the most healthy habits of student-athletes he's worked with, on and off the court.
"Garrett and Ian aren't the most skilled players in our program, but they're probably two of the most reliable ones," DeCrane said. "So, whether we're doing schemes on offense or defense, or their scouting assignments or preparation, not to mention the maximum effort they play with, I know exactly what I was going to get out of those two all the time. They were two of the most consistent players.
"And they put in a ton of time to work on their games. These are kids that you marvel at what they do, because you want everyone to strive to be like them."
Miller said he was able to excel as both a student and an athlete because Gilmour does a great job of making sure its students don't feel as pressured, even with their vigorous coursework.
His senior season, Miller averaged 6.6 points per game, on 55.1 percent shooting, 4.3 rebounds, 2.9 assists and 1.2 steals.
"Coaches were never angry when you're meeting with teachers, because they do stress that we're student-athletes – students first," Miller said. "For me personally, I have some siblings that are both very intelligent themselves. So, I had role models to look up to in the classroom. I would always just hope I did better than my brother in this class or better than my sister in this class. So, that was kind of my work ethic in that perspective."
Gilmour graduates themselves, Miller's sister is now studying at Villanova University, while his brother studied at Ohio State and is now working in accounting and auditing with Ernst and Young. Miller's dad also graduated from Ohio State, so the whole family regularly visits Columbus, he said.
Olsen, meanwhile, said his success in the classroom carries over to the basketball court and baseball field. He had a 4.25 GPA entering his senior year and only improved upon that cumulative average with four AP courses this academic calendar.
He's 6-foot-5, but Olsen is by no means the biggest or the strongest kid on the Gilmour basketball team. Nonetheless, being a cerebral player allowed him to start at center his junior basketball season.
"I was able to recognize all the players, recognize defenses, definitely remember all the plays, which helped me get starting role," he said. "And then that transferred into this year when I became a captain on the team, and definitely a leader in helping the younger guys to bring our team together."
Olsen also said he didn't want to be labeled as a student or as an athlete.
"I want to be both – a student-athlete," he said. "I want to be a role model for younger people. So, that motivation has definitely allowed me to excel in both with classroom and the basketball court or baseball field."
His senior season, Olsen averaged 8.0 points per game, leading his team's scoring column in five games, 3.6 rebounds, 1.6 assists and 0.6 steals.
And on the baseball field, Olsen was a starting third baseman and batted out of the five-hole for the Lancers' 2019 Division II state runner-up team that finished 25-7 with just two seniors in the starting lineup.
In that regard, it was really tough not getting a second chance to return to states after the spring sports season was canceled in 2020, Olsen said. But he plans to play club baseball at Notre Dame.
"Our family has been lifelong Notre Dame fans, because my dad's uncle went there, and then we just grew up a Notre Dame family," he said. "So, it's always been my dream school. And as soon as I got in, I knew I wanted to go there."
While both Olsen and Miller said their success in the classroom carried over to athletics, their success in athletics conversely carried over the classroom.
Miller said dedicating three hours to basketball after school forced him to be efficient with his time.
"Just knowing that I was going to have to be under pressure during the basketball season, I just ended up applying that throughout the entire year of school," he said. "So, it helped me a lot just knowing I had something to be motivated towards."
In addition to being named salutatorian, Miller was the 2020 male recipient of the Gilmour Trophy, while Taniya Dzouza was the female recipient.
In a nutshell, the Gilmour Trophy is the highest honor a student can receive during his or her years at the academy. It's bestowed upon the male and female in the graduating class who exemplify the qualities that Gilmour hopes to nurture in all students, with special focus on the school's mission.
"It just meant so much to me," Miller said. "I worked so hard throughout high school just to make sure I had a good reputation, I had great relationships with my friends and teachers, and I think it proves that my work paid off in the end, because people saw me for being a good kid that was good in the classroom and outside as well."